Mobile County Commission Approves Strategic Spending Plan for American Rescue Plan Act Funds
Posted on: Aug 1st, 2022 | COVID-19News and AnnouncementsPress Releasesfeatured news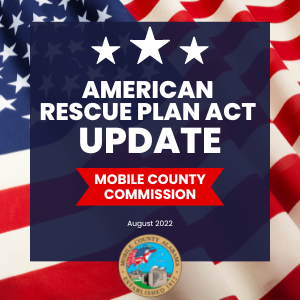 MOBILE COUNTY, Ala. – The Mobile County Commission approved its Strategic Spending Plan for the American Rescue Plan Act (ARPA), obligating $58.1 million of the County's approximately $80 million allocation during a special meeting on Aug. 1, 2022.
Mobile County Commissioners Merceria Ludgood, Connie Hudson and Randall Dueitt approved 32 projects for funding (see table below). These aim to respond to the public health crisis, improve public facilities and infrastructure, provide aid to the most vulnerable populations, strengthen local government operations and increase economic recovery and growth efforts.
Mobile County Commissioners have proceeded deliberately with the County's allocation of ARPA's State and Local Fiscal Recovery Funds. Project progression and updates are available at https://www.mobilecountyal.gov/american-rescue-plan-act-of-2021/.
The next step in Mobile County's process is Strategic Spending Plan implementation. Projects can commence after agreements are executed between the Mobile County Commission and each of the funding recipients.
About $22.2 million of Mobile County's ARPA allocation remains unencumbered as of Aug. 1, which allows the Commission flexibility, including the potential to address additional needs at a later date. ARPA funds must be obligated by Dec. 31, 2024, and fully expended by Dec. 31, 2026.
PROJECTS APPROVED FOR FUNDING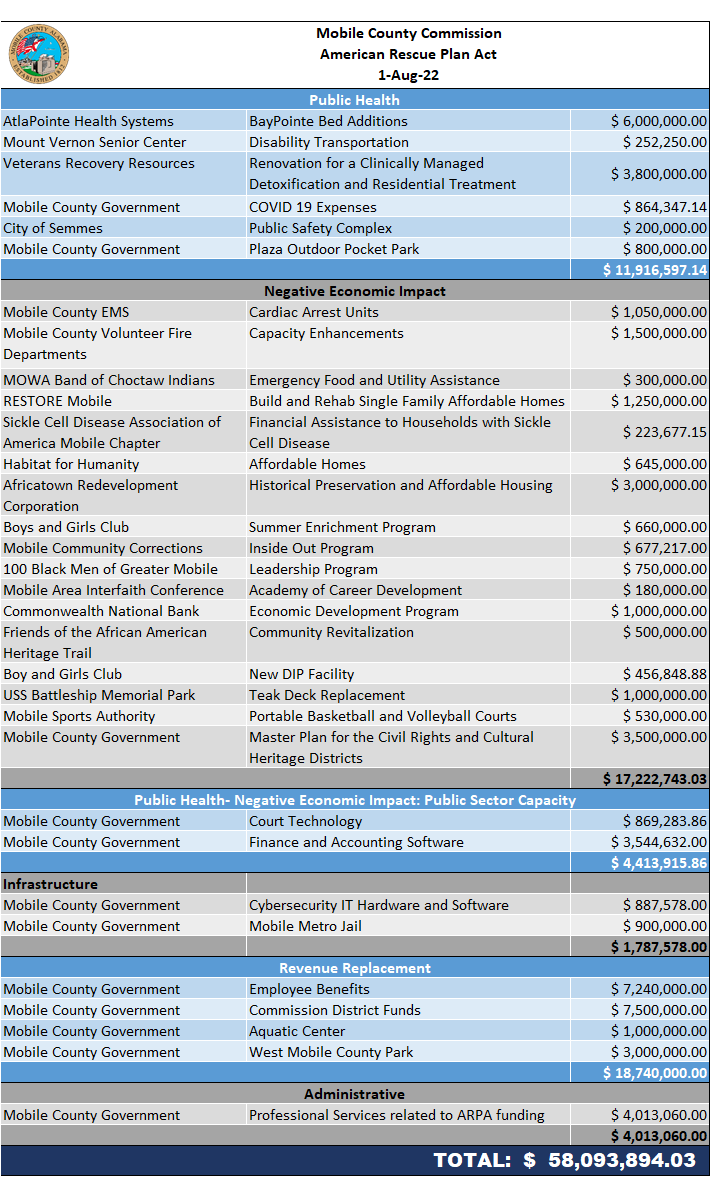 The Strategic Spending Plan is available on Mobile County's ARPA webpage or by clicking here: Mobile County ARPA Strategic Spending Plan FINAL (mobilecountyal.gov)