Mobile County Commission Third Annual ARPA Report to U.S. Treasury
Posted on: Sep 22nd, 2023 | COVID-19News and AnnouncementsPress Releasesfeatured news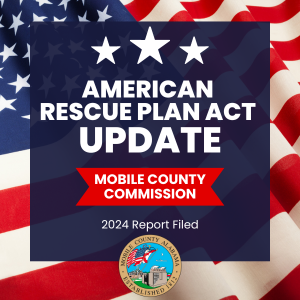 MOBILE COUNTY, Ala. – According to the Mobile County Commission's 2023 Recovery Plan Performance Report filed with the U.S. Department of Treasury, $50.5 million of the County's allocation has been obligated and of that, about $32 million has been expended.
The American Rescue Plan Act of 2021 (ARPA) is a multi-year comprehensive relief package aimed at mitigating the impacts of the COVID-19 pandemic on individuals, families, businesses and communities across the U.S. It was signed into law in March 2021 by President Biden.
In 2021, the Mobile County Commission received an allocation of $80.26 million from the ARPA State and Local Fiscal Recovery Funds (SLFRF). The award has specific requirements including that recovery fund dollars be obligated by December 31, 2024, and fully expended by December 31, 2026.
After periods of public input and an application process, the Mobile County Commission developed its Strategic Spending Plan, which was approved in August 2022 and revised in January 2023. Through it, Commissioners Merceria Ludgood, Connie Hudson, and Randall Dueitt aim Mobile County's ARPA funds toward pandemic recovery in five target areas. The 44-page report to the U.S. Treasury Department explains the process and provides updates on the funded projects by Commission target area, briefly summarized in this table: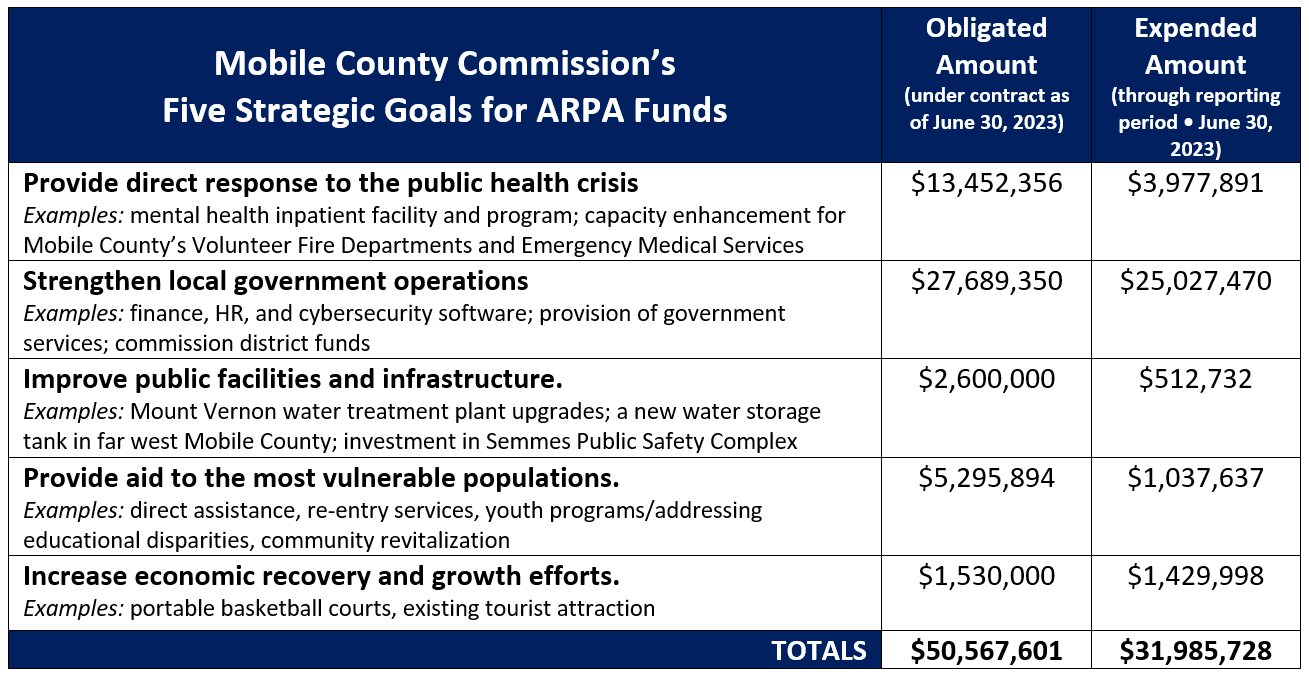 Considerations for project selection included direct benefit, long-term impact, disproportionately impacted population, community need, goal alignment, sustainability, and other information gathered in the application process. The Mobile County Commission-approved projects are in various stages of progress: some are not yet contractually obligated, most are in progress, and some are complete. According to the report, completed or substantially completed projects include:
Mobile County Emergency Medical Services cardiac monitors

Allocations of $84,000 to each of Mobile County's 18 Volunteer Fire Departments

Town of Mount Vernon Senior Disability Transportation

Personal protective equipment and other County expenses related to the COVID-19 pandemic

Finance/HR and cybersecurity upgrades

Tourism-related investments in Friends of the African American Heritage Trail, Battleship Memorial Park, and Mobile Sports Authority
Mobile County Commissioners have proceeded deliberately with the County's allocation of ARPA SLFRF. Information about the process, materials, and updates are available on the Commission's dedicated ARPA webpage: https://www.mobilecountyal.gov/american-rescue-plan-act-of-2021/.