District 1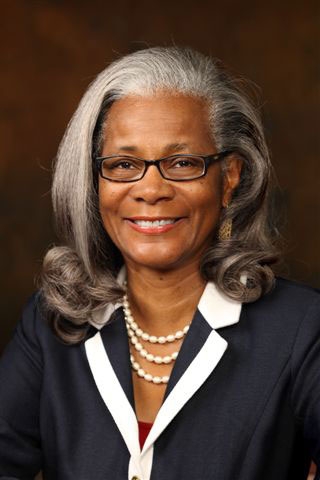 County Commissioner
Merceria Ludgood
(251) 574-1000
Email: district1web@mobilecountyal.gov
Facebook Link Twitter Link
Attorney, civic leader and District One Mobile County Commissioner Merceria Ludgood's life and work experiences are a testament to her personal motto: "To whom much is given, much is required."

The native of Mobile's Crichton neighborhood graduated with honors in 1970 from Toulminville High School. In 1974, she earned her Bachelor of Science degree from the University of Alabama, followed in 1976 by a Master of Arts degree. An avid supporter of higher education, Ludgood also earned a Master of Divinity degree from the Alabama Interdenominational Seminary in 1990.
Ludgood earned her law degree in 1981 from the Antioch School of Law in Washington, D.C. She also worked as a law clerk in 1980 to the U.S. Senate Judiciary Committee's Subcommittee on Jurisprudence and Governmental Relations, chaired by Sen. Howell Heflin of Alabama.
She returned to Mobile in 1981 to begin her law practice with the firm of Figures, Irby and Ludgood, where she remained until 1988 when she opened her own office. In 1991, she continued her commitment to social justice when she was selected to lead the Legal Services Corporation of Alabama, which provides free civil legal services for income-eligible clients. She supervised 14 offices serving 60 of Alabama's 67 counties.
The job led Ludgood back to Washington, D.C. in 1995, when she became director of the Office of Program Services in the national office of the Legal Services Corporation. She returned home to Mobile 1998 and served as a full-time assistant county attorney and assistant city attorney, respectively, until she was elected to her present position on Oct. 9, 2007.

Ludgood is the recipient of numerous honors and awards, including being selected for Leadership Mobile, Leadership Alabama and the prestigious Kellogg National Leadership Fellowship. As a Kellogg Fellow, she traveled to 17 countries on five continents, interviewing women leaders. She has been honored for her public service by many community organizations including in 2008, recipient of Mobile United's A.F. Delchamps Award for creating community by forging unity from diversity; 2012 Mobile Bar Association Trailblazer Award; 2016 al.com Women who shape the state; 2017 Governing Magazine Women in Government Leadership Class and 2016 Inductee Alabama Lawyers Association Hall of Fame.

The Commissioner has distinguished herself as a member of the inaugural class of "Herstory of Mobile," a Museum of Mobile project recognizing the outstanding contributions of women to the social, economic and cultural heritage of the Gulf Coast region.

Ludgood donates her time to many organizations, including Mobile United/Leadership Mobile, Leadership Alabama, Alabama Appleseed Center of Law and Justice, United Way of Southwest AL, and the United Way Women's Initiative.
Ludgood's current professional affiliations also include:
National Association of Counties, Executive Committee, representing 12 Southern states
Past President, Association of County Commissions of Alabama; current Member Board of Directors
National Association of Counties, Community and Workforce, and Economic Development Steering Committee
National Association of Counties, Gulf Counties and Parishes Gulf Oil Spill Task Force, Chair of Subcommittee on Revisions to the Oil Pollution Act
Environmental Protection Agency, Local Government Advisory Council, Gulf Coast Work Group
State of AL Workforce Development Board
Ludgood is a member of the Friendship Missionary Baptist Church where she serves as a Sunday School teacher, Bible class teacher, youth counselor and chairperson of the Board of Trustees.
She is married to Carlos Williams, Federal Defender for the Southern District of Alabama.
Photos of District 1