Escatawpa Hollow Park and Campground
Escatawpa Hollow Park and Campground is now open for reservations! Click the link above to reserve a campsite starting August 14, 2023.
Reservations can be made up to one year in advance!
---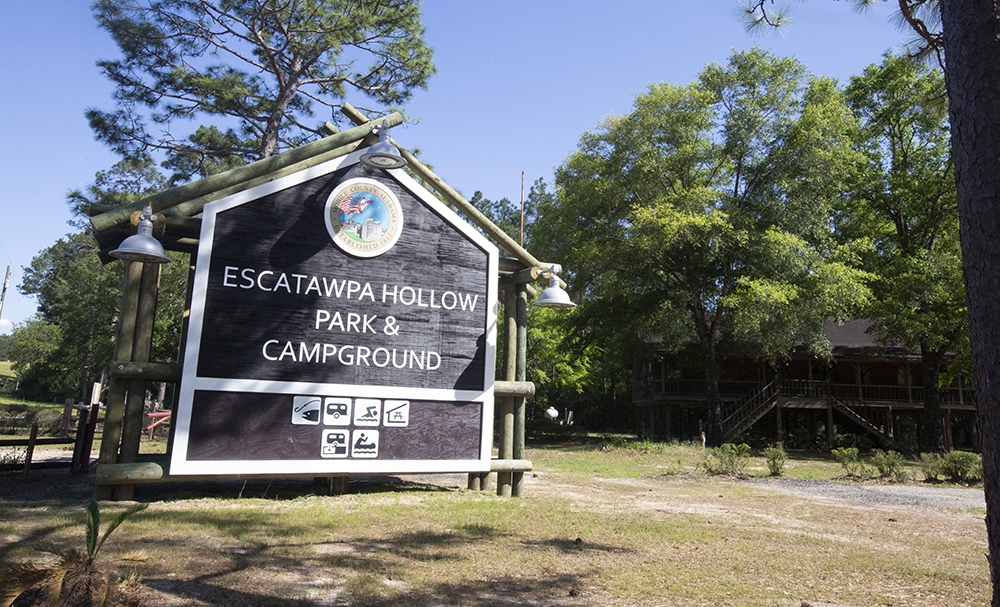 15551 Moffet Road, Wilmer, AL 36587
Phone: 251-574-PARK (7275)
Email: MoCoParks@mobilecountyal.gov
Hours: 8 a.m. to Dusk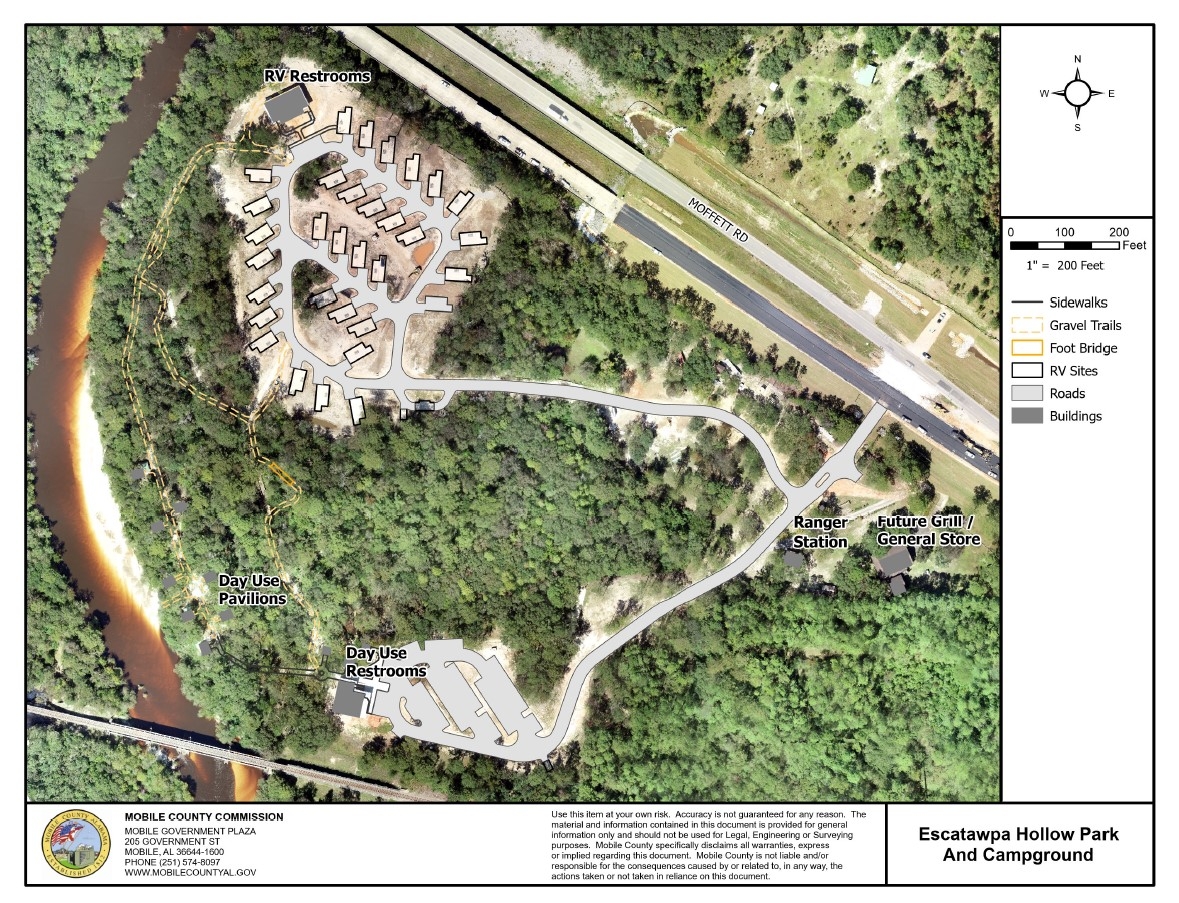 ---
Escatawpa Hollow Park & Campground is open for limited day use and RV camping
Escatawpa Hollow Park & Campground is open for limited day use 8 a.m. to dusk daily. Mobile County is waiving admission fees while park use is limited during continued construction.
Visitors have day-use access to the river and beach, restrooms and parking, pavilions with picnic tables and grills, as well as some walking trails. Park signage guides visitors to the open areas of the park. The park encompasses a diverse ecosystem of native plant and animal life for the enjoyment of all guests.
Park Improvement Phase 1A is complete, which included infrastructure work like water/sewer, roads and parking lots, a day-use area with beach access, restrooms, parking, eight picnic pavilions (including handicap accessible), and walking trails – these are open for visitors to enjoy. The 32-pad RV campground with a restroom/shower/laundry facility opened in August 2023. This portion of park improvements were funded by a $3.5 million State of Alabama GOMESA grant provided by Gov. Kay Ivey and the Alabama Department of Conservation and Natural Resources.
The beach access area, accessible only via a walking trail, includes a small launch and visitors are welcome to bring their own kayaks, canoes or similar to Escatawpa Hollow Park & Campground. Rentals are in future plans, but are not available at present.
Escatawpa Hollow Park & Campground is still under construction and many exciting additions are underway. Phase 1B construction should begin Spring 2024 and includes a café, general store, blackwater river system interpretive center and playground.
Master planning for future phases is near completion. Future amenities are expected to include rentable cabins and a few novelty tree houses, a small conference center, a disc golf course, more river beach access areas, rentals for tubing or paddling, as well as more walking and biking trails.
All Mobile County parks are designed to be family-friendly allowing visitors of all ages to enjoy the beautiful outdoors. Visitors should leave only footprints in the park – litter is prohibited. Leashed pets are permissible, but owners should pick up after their animals. The use of alcohol and similar substances are strictly prohibited. ATVs are prohibited.
Escatawpa Hollow Park & Campground construction is part of the Mobile County Commission's multi-year, $40 million parks improvement initiative that includes $35 million to increase public access to water. The Parks Initiative and these park improvements, funded by the Gulf of Mexico Energy Security Act (GOMESA), are designed to increase public access to shoreline recreational areas including the blackwater Escatawpa River.
Park acquisition, expansion and renovation are spearheaded by District 2 Commissioner Connie Hudson:
The approximately 45-acre privately owned campground was purchased in 2019 by the Mobile County Commission.
Renamed Escatawpa Hollow Park & Campground, it was opened to the public in June 2020.
Master planning occurred through 2020.
The park was closed for construction and renovation in April 2021.
Additional acreage was acquired in 2022 and 2023.
Planning for future phases of the now-220-acre park is underway.
The park was opened for limited day use in October 2022 and the RV campground opened August 2023.
Click here for an animation video of Phases 1A and 1B when completed

Click here for drone video and photos of the park under construction.
Some media coverage of the park's "soft opening" on Oct. 21:

Mobile County's Escatawpa Hollow Park & Campground (arcgis.com)