Commercial Site Plan
Site plans are a requirement of the International Building Code (Section 106). The better description is "Engineered Site Plan." Commercial developments must have an approved site plan before the Inspection Services department will issue any permits. As a general rule, the third habitable structure on a parcel, residential or otherwise, will trigger a review by the staff of the Engineering Department to determine if a site plan is necessary.
Site plans are administratively reviewed for four categories: floodplain management, subdivision compliance, traffic management and access, and general engineering design, including drainage.
Site plan submittals are required to be signed and sealed by an Alabama Registered Professional Engineer. The requirements for a site plan can be found in our "Commercial Site Plan Requirements" document.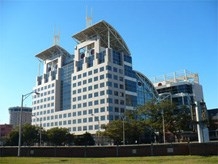 Mobile Government Plaza
205 Government Street
Mobile, Alabama 36644-1600
251-574-8595
development@mobilecountyal.gov
Hours:
Monday – Friday
8:00 AM – 5:00 PM