American Rescue Plan Act Update: Mobile County Commission Selects Projects To Move Forward
Posted on: Apr 25th, 2022 | COVID-19News and AnnouncementsPress Releasesfeatured news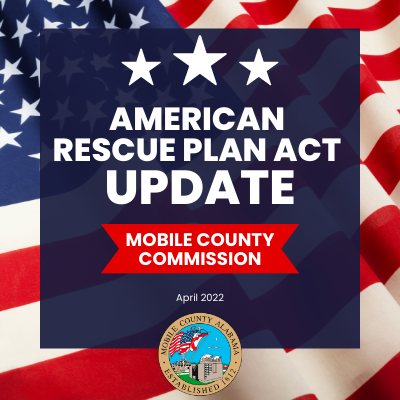 MOBILE COUNTY, Ala. – The Mobile County Commission approved a list of American Rescue Plan Act (ARPA) funding proposals at its meeting on April 21 allowing 35 projects totaling $61.5 million to move forward to the next phase of its selection process.
Approximately 200 applications for American Rescue Plan Act funding were initially received in fall 2021. These applications were subject to a preliminary evaluation to determine project eligibility in accordance with the rules and regulations associated with the American Rescue Plan Act of 2021's State and Local Fiscal Recovery Funds program.
Tier 1 proposals on the list below will move forward to the next phase of Mobile County's Evaluation Process performed by the County staff and consultant team. Applicants selected to move forward were notified via the email address provided on the application.
Ten Tier 2 projects have been identified, which may be moved to Tier 1 status pending results of the Evaluation Process and availability of funds. The Tier 2 list includes water/sewer infrastructure projects and programs to address mental health, child abuse, home repair and senior centers.
Once requested information has been gathered and evaluated from these applicants, the Mobile County Commission will make determinations regarding funding through an approved ARPA Expenditure Plan.