Mobile County Commission Issues American Rescue Plan Act Strategic Spending Plan Version 2
Posted on: Jan 30th, 2023 | COVID-19News and AnnouncementsPress Releasesfeatured news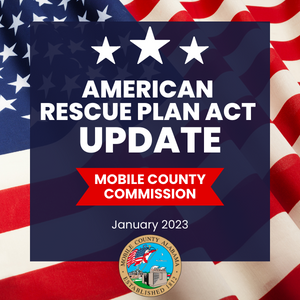 MOBILE COUNTY, Ala. – The Mobile County Commission issued a revised version of its American Rescue Plan Act Strategic Spending Plan to reflect actions taken since the initial plan's approval on August 1, 2022.
Revisions to the plan include adding three water/sewer infrastructure projects: Bayou La Batre water distribution upgrades, Mount Vernon water treatment plant upgrades and a new water storage tank and water main for the Wilmer-Semmes-Georgetown area. These were under Tier 2 consideration when the initial 32 projects were approved on Aug. 1, 2022. The Mobile County Commission also allocated funding for the various Mobile County volunteer fire departments' capacity enhancements.
Commissioners Merceria Ludgood, Connie Hudson and Randall Dueitt have now committed approximately $62.9 million from Mobile County's allocation of $80.26 million in ARPA State and Local Fiscal Recovery Funds. See the revised Strategic Spending Plan at https://www.mobilecountyal.gov/uploads/MobileCountyARPAStrategicSpendingPlanVersion2Jan2023.pdf.
Commissioners have aimed the American Rescue Plan Act funds toward achieving these spending plan goals: respond to the public health crisis ($14.6 million), improve public facilities and infrastructure ($9.5 million), provide aid to the most vulnerable populations ($9.6 million), strengthen local government operations ($24 million) and increase economic recovery and growth efforts ($5 million).
Mobile County's ARPA funds must be obligated by Dec. 31, 2024, and must be fully expended by Dec. 31, 2026. About $17.4 million of the County's ARPA allocation remains unencumbered, which allows the Commission some flexibility, including the potential to address additional needs at a later date.
Mobile County Commission also filed its fourth quarter report to the U.S. Department of Treasury indicating that the Strategic Spending Plan implementation is underway. Most of the projects selected for funding are in partnership with other entities and may only commence after agreements are executed between the Mobile County Commission and each funding recipient. Agreements have been executed with about 75% of external partners as of Dec. 31, 2022. ARPA-funded projects are considered in progress once all agreements are executed and the sub-recipients begin their implementation (see table below).
Mobile County Commissioners have proceeded deliberately with the County's allocation of ARPA's State and Local Fiscal Recovery Funds. Information about the process, materials and updates are available at https://www.mobilecountyal.gov/american-rescue-plan-act-of-2021/.