Mobile County Art Contest for Earth Day
In an effort to bolster civic education and educate communities on the role of county government, Mobile County is launching the 2022 "We Should Invest In Our Planet Because…" art contest, in conjunction with National County Government Month.
Mobile County leaders are spreading the word about the county's initiatives for recycling and clean-up activities. By inviting children and young adults ages 18 and under to create artwork that promotes recycling, taking care of the earth and preventing global warming, Mobile County hopes to raise awareness about its programs and services that impact people's lives every day.
The contest is divided into three divisions: one winner will be selected from elementary school (1-5), middle school (6-8) and high school (9-12). Winners will be awarded certificates, prizes and gift cards.
Winners will also be announced at a Mobile County Commission Meeting, and their artwork will be displayed in Mobile Government Plaza. The artwork will also be featured in future Mobile County initiatives.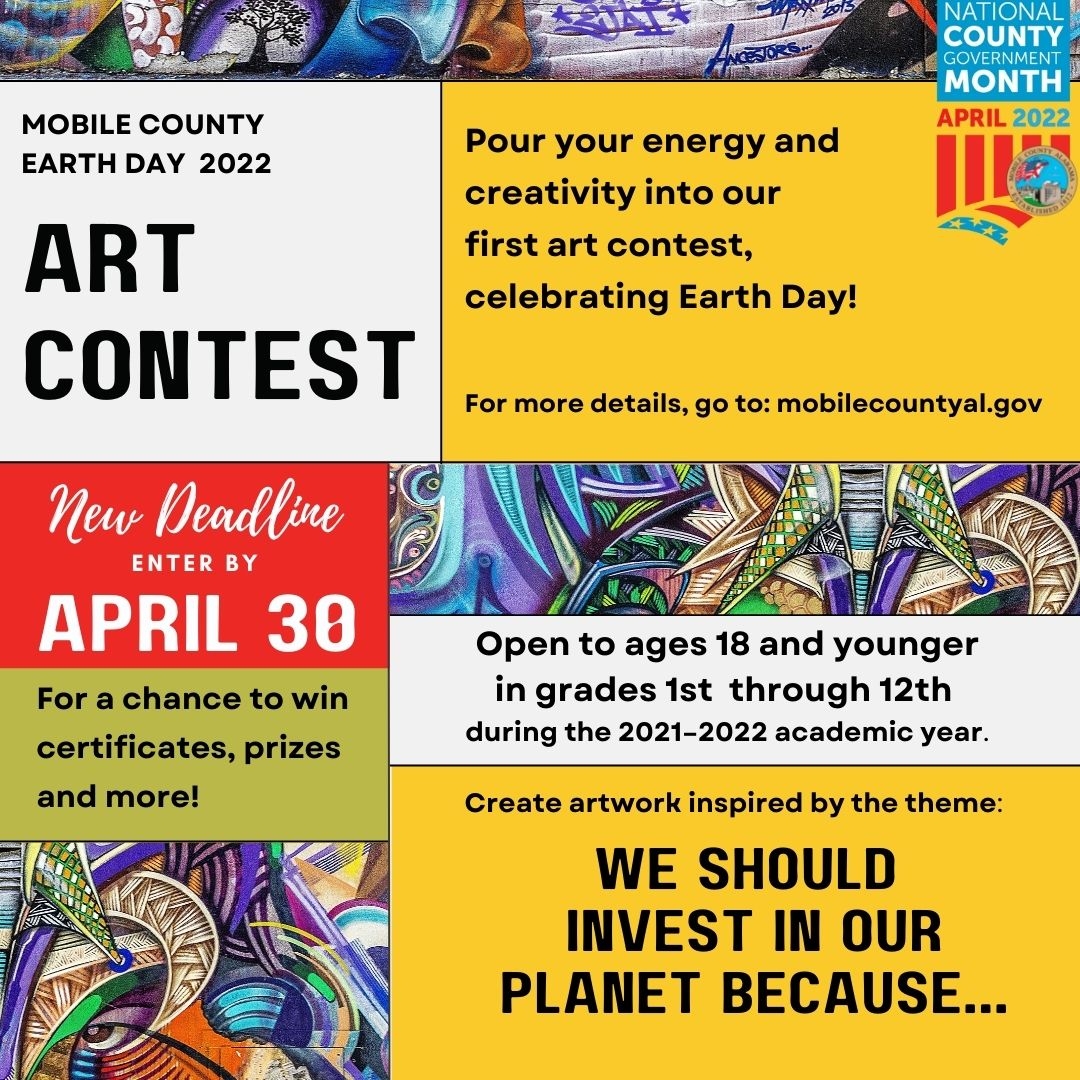 ELIGIBILITY
Only students living in the Mobile County, Alabama, who are 18 years of age and younger in grades 1st through 12th, during the 2021–2022 academic year are eligible.
Each submission must be original artwork created in the current school year by one student.

ARTWORK GUIDELINES
Submitted artwork must be inspired by the sentence "We Should Invest In Our Planet Because…"
The artwork must be horizontal 11" x 8.5" (PDF or JPEG).

JUDGING CRITERIA
Technical skill: The artwork must display artistic skill in painting, drawing or digital art.
Creativity and Imagination: The artwork must be original in its expression of a personal vision or voice. It must be the student's own work and cannot be plagiarized or in violation of any copyright.
Artist's statement: Along with the artwork, each student is required to submit a statement that completes the sentence "We Should Invest In Our Planet Because…"
Each entry must include the artist's name, grade, school and contact information (for the student, a parent or guardian's email address and phone number) and a teacher (email address and phone numbers).
DEADLINE AND SUBMISSION REQUIREMENTS
The competition submission period closes April 30, 2022, at 11:59 a.m. CT.
Students must submit their artwork for consideration by emailing it to: publicaffairs@mobilecountyal.gov
The artwork must be submitted as a PDF or JPEG. (Winners will be notified and asked to mail their original artwork to Mobile County Commission.
The artist's statement including name, age, grade level, school, teacher or art teacher and contact information for a guardian or teacher must be submitted as a .doc or .docx file.
For digital art or graphic design submissions, the design must be 300 dpi and RGB color.
Only one submission per student is allowed.
There is NO entry fee.
Please mail original artwork to:
Mobile County Commission
205 Government Street
10th Floor, South Tower
Mobile, AL 36644
Attention: Dena Pollard, Public Affairs Manager