Ribbon Cutting on Newly Paved Triumph Road in Citronelle
Posted on: Oct 28th, 2022 | News and AnnouncementsPress Releasesfeatured news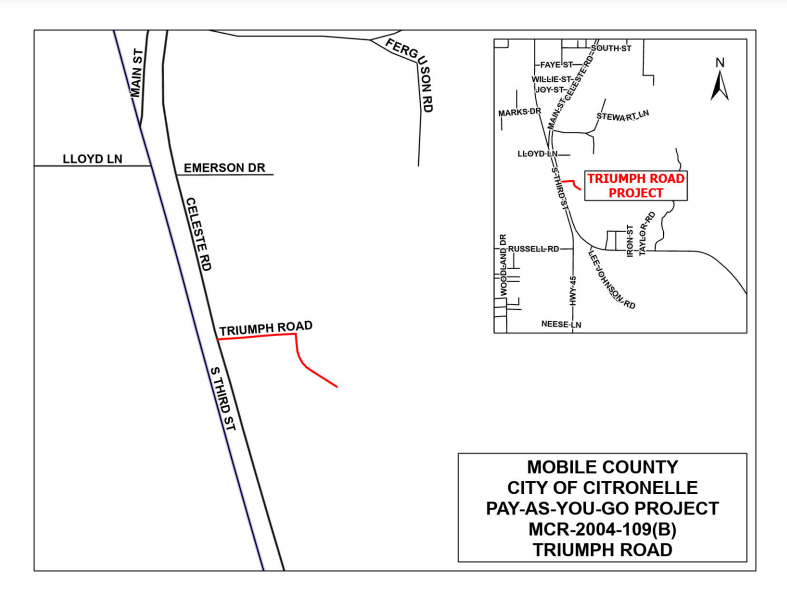 MOBILE COUNTY, Ala. – After approximately six months of work, the newly paved Triumph Road in Citronelle was dedicated by community members and District 1 Commissioner Merceria Ludgood in a ribbon cutting ceremony on Oct. 28.
In addition to Commissioner Ludgood, about 30 community members in attendance heard from Citronelle Mayor Jason Stringer, Citronelle District 1 Councilor David Ferrell, Rev. Joseph Laffiette, Pastor of Bethlehem Missionary Baptist Church and Rev. Alvin Davis, Pastor of Triumph Ministry.
The two churches are in very near proximity to the newly paved road as well as to Pilgrim's Rest Cemetery.
Commissioner Ludgood said, "Most road and bridge projects take about five years to complete. This one took longer and went through a few iterations to incorporate local residents' input. Though it took some time, Triumph Road in Citronelle represents a promise kept to this community."
This grade, drain, base and pave road project was funded through the 2004 Pay-As-You-Go program. The project's total cost was about $415,000. It is the last project to be constructed in the 2004 PAYG program and was the oldest active project for Mobile County's Pay-As-You-Go Transportation Improvement Program.
Mobile County's Pay-As-You-Go is a method of financing road and bridge improvements with no new taxes and no borrowed money. Funds are collected in advance of each road program. Beginning in 1977, Mobile County's Pay-As-You-Go has funded more than $933 million in local road improvements and has been approved by voters each of the 18 times it has appeared on a ballot. Mobile County Pay-As-You-Go projects may be viewed at: http://www.mobilecountyal.gov/.../public-works-engineering/.
In its 45th year as the Mobile County's flagship road and bridge program, the 2022 Pay-As-You-Go Transportation Improvement program is up for voter approval as the last item on Mobile County's Nov. 8 General Election Ballot entitled Special County Election. Find more information on the 2022 PAYG program at https://www.mobilecountyal.gov/latest-news/2022payg/.
Images: