SBA Assistance Available: Jan. 12 Tornado in North Mobile County
Posted on: Feb 14th, 2023 | News and AnnouncementsPress Releasesfeatured news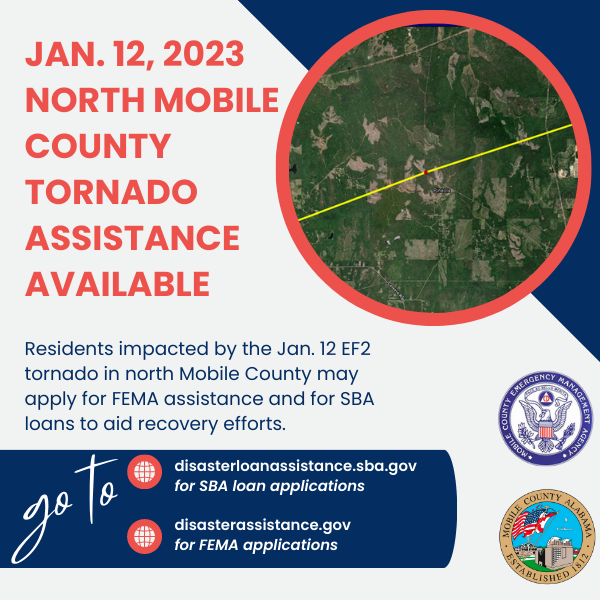 MOBILE COUNTY, Ala. -- Applications are available for low-interest Small Business Administration loan assistance for those impacted by the Jan. 12, 2023 EF2 tornado in north Mobile County.
The impacted area is in Mobile County Commission District 1. The National Weather Service in Mobile determined an EF2 tornado touched down in north Mobile County: west of Old Citronelle Road, east of U.S. Highway 45 near Gulfcrest through forested areas. It left a significant tree debris signature around Movico Loop roads and U.S. Highway 43 near Cedar Creek Landing Road.
This is in addition to the applications for FEMA assistance explained here.
Multiple forms of SBA Business Disaster Assistance Loans can help get businesses, nonprofits, communities, homeowners and renters back to normal after a declared disaster.
Application deadlines vary: March 16, 2023 for property damage loans and Oct. 16, 2023 for economic injury loans.
Applicants may apply online using the Electronic Loan Application (ELA) via SBA's secure website at https://disasterloanassistance.sba.gov/ela/s/ and should apply under SBA declaration # 17759. After an initial credit check, applicants go through a verification process and then a loan decision is made.
To be considered for all forms of disaster assistance, applicants should register online at DisasterAssistance.gov or download the FEMA mobile app. If online or mobile access is unavailable, applicants should call the FEMA toll-free helpline at 800-621-3362. Those who use 711-Relay or Video Relay Services should call 800-621-3362.
See below for more information on several types of SBA loans: