Dauphin Island Causeway ReefBlkTM Recovery Project
Posted on: Mar 5th, 2023 | News and AnnouncementsPress Releases
The Nature Conservancy, Mobile County and partners launch Dauphin Island Causeway ReefBlkTM Recovery Project
MOBILE COUNTY, Ala. — The Nature Conservancy (TNC) in Alabama, alongside the Alabama Department of Conservation and Natural Resources (ADCNR) and Mobile County, today launched the first of three phases for its Dauphin Island Causeway Reef Repurposing Restoration Project.
Through tomorrow, March 7, ReefBlksTM — or artificial reef modules placed along the shore to form reef habitat by mimicking natural reefs — are being removed via trackhoe and loaded onto a barge for transport to Bayou la Batre where oysters will be salvaged and the cages disposed of.
The ReefBlksTM currently at this location have been in place since 2011. While oysters are growing on these cages, they are degrading and no longer protecting the shoreline. By salvaging the oysters on the cages and putting them back on nearby reefs, we keep them adding larvae to the larger system. The ReefBlkTM removal from Dauphin Island Park Causeway will ultimately make way for large-scale restoration to protect the causeway.
"We have tested several shoreline protection and reef enhancement options to determine what works best where, and along Dauphin Island Causeway, something more robust is needed," said Mitch Reid, state director for TNC in Alabama. "We applaud our project partners and their shared effort to address the larger issues along the Parkway and bring this project to fruition."
Items being removed and repurposed were originally funded by the 2009 American Recovery and Reinvestment Act (ARRA). At that time, TNC in Alabama and partners ADCNR, Mobile County, Dauphin Island Sea Lab (DISL), and the University of South Alabama (USA) were granted funds to test three reef technologies — bagged oyster shell, Reef Balls and ReefBLKsTM — for shoreline protection, oyster settlement, and fisheries enhancement.
"The Dauphin Island Causeway is a critical link for residents and visitors of Dauphin Island. As the only way on and off the Island, it has long been a priority to protect this area. I am thankful for the work that was previously done to protect the road infrastructure and marsh, while exploring the best methods to also benefit Alabama's marine resources, like oysters," said Alabama Conservation Commissioner Chris Blankenship. "I am glad to partner with TNC and Mobile County to make good use of the oysters and Reef Balls as they are relocated to new reef areas to keep providing ecological benefits as the long anticipated new construction gets underway."
"The Mobile County Commission is thrilled to be a part of this project to relocate these structures to both salvage viable sea life and continue their valuable function where needed elsewhere along Mobile County's coastline. The Mobile County Commission thanks The Nature Conservancy, the Alabama Department of Conservation and Natural Resources and all collaborators for their efforts in planning and implementing this project. We thank the volunteers as well," said Mobile County Commissioner Randall Dueitt. "Relocating the Reef Balls and ReefBlksTM in this fashion makes way for the future Dauphin Island Causeway Shoreline & Habitat Restoration Project, which uses oil spill and coastal resilience funds to restore 3.3 miles of shoreline to protect Dauphin Island Causeway and the salt marsh to its west."
This multi-phase project represents an $80,000 investment for TNC in Alabama, AL Wildlife Federation, ADCNR, Mobile County, DISL, USA and Osprey Initiative, the in-state operations of the global TNC organization supporting Alabama-specific conservation efforts through sustainable management, restoration and landscape protection.
After the Phase 1 Reef Ball and ReefBlkTM removal is complete, Phase 2 — set for Wednesday, March 8 - Thursday, March 9 — will involve sorting and salvage of oysters and placement at their future habitat in Bayou la Batre by partners and volunteer students from the University of South Alabama. In Phase 3, Monday, March 13, the Reef Balls will be relocated and placed on a new, artificial fishing reef at Dog River.
PHOTOS:
Dauphin Island Sea Lab team loosening Reef BlksTM
Loosened eye bolts that held the Reef BlksTM in place along the Dauphin Island Causeway.
District 3 County Commissioner Randall Dueitt, Alabama Department of Conservation & Natural Resources Commissioner Chris Blankenship and The Nature Conservancy's Mitch Reid.
Removing Reef Blks in advance of the Dauphin Island Causeway restoration project.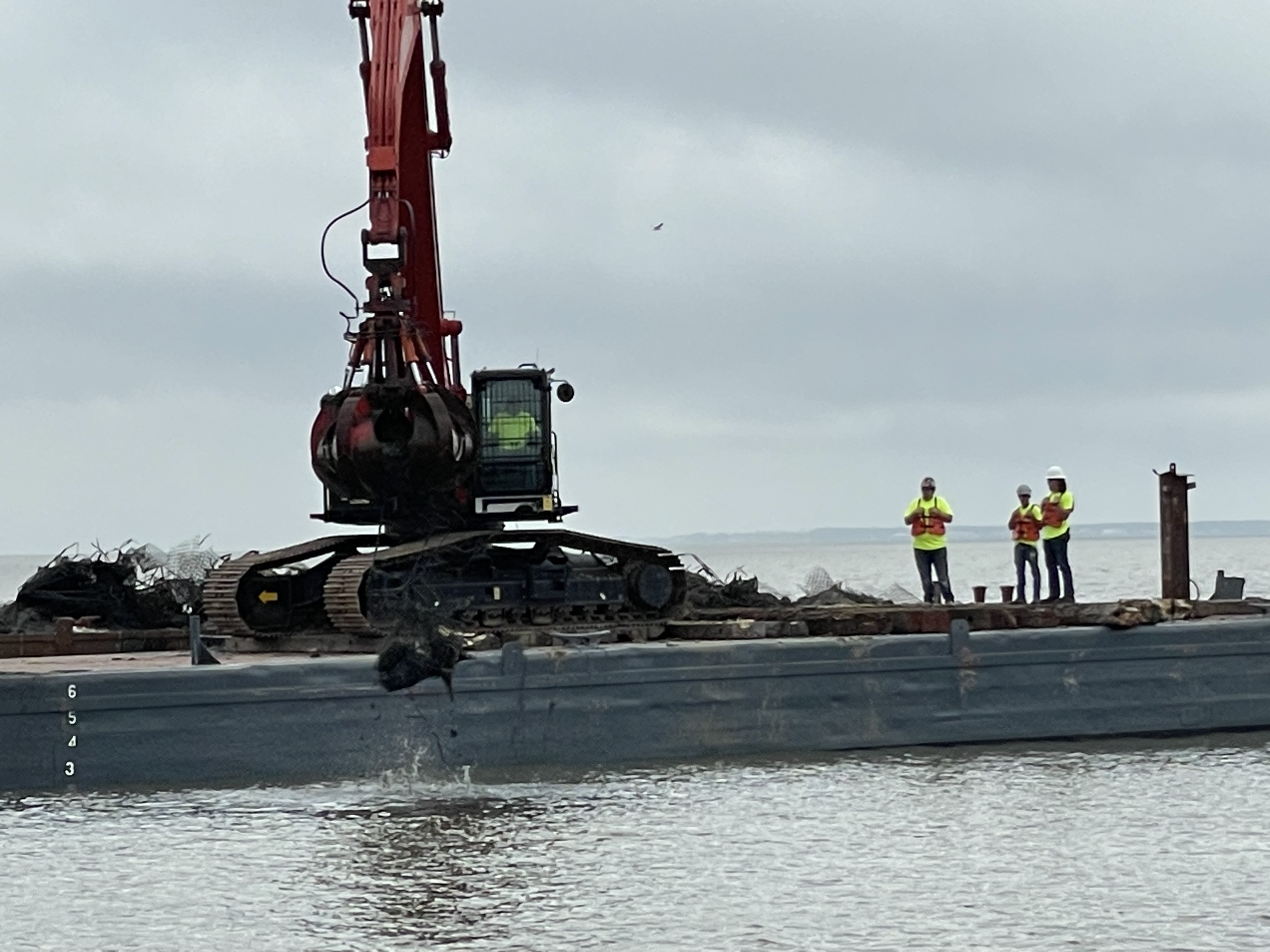 Almost 300 acres of salt marsh west of Dauphin Island Causeway. The road and the salt marsh habitat will receive additional protection when the oil-spill and coastal-resilience funded Dauphin Island Causeway Shoreline & Habitat Restoration Project is eventually completed.