New History of Mobile County Commission Webpage Launched
Posted on: May 19th, 2022 | News and AnnouncementsPress Releasesfeatured news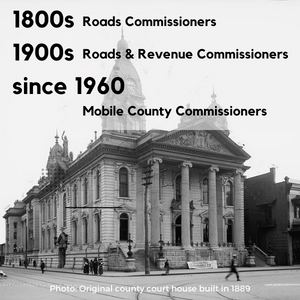 MOBILE COUNTY, Ala. – The Mobile County Commission launched a new History of Mobile County Commission webpage on May 19, 2022, see the page at History Of Mobile County Commission : Mobile County (mobilecountyal.gov).
The webpage was created at the request of Commissioner Randall Dueitt and contains a brief history of Mobile County Commission, a listing of commissioners dating back to 1849 and notations of confirmable additional offices held, firsts, or facilities and roads named in their honor.
"This history webpage has value because the information was not available online," said Dueitt. "I was particularly interested in who Mobile County Commissioners were and wanted to publicly connect them and their service to the County as we know it today – for example, thousands of people drive Leroy Stevens Road on a daily basis and may not know that he was a County Commissioner for 30 years."
Mobile County Public Affairs obtained information from records with significant assistance from Mobile County's Records Department staff. A portion of the records review was through a manual evaluation of Mobile County Minutes books dating back to 1849, review of the County roads inventory, and additional online research conducted by intern Stephen Davis, a history student at the University of Mobile, and Public Affairs staff. Davis spent 110 hours on this project for academic credit. His research followed academic protocol and his spring semester 2022 internship was supervised by both Mobile County's Public Affairs Director and UM history faculty. Davis was recognized by the Mobile County Commission at its May 5, 2022 Conference.
The History of Mobile County Commission webpage is a work in progress. An email address is provided on the page for content suggestions. Future research could include local newspaper archives, local municipalities' archives and other archives held by the Alabama Department of History and Archives.