Mobile County Animal Shelter: Fall Special for Adoptions & Fosters Needed
Posted on: Nov 2nd, 2023 | News and AnnouncementsPress Releasesfeatured news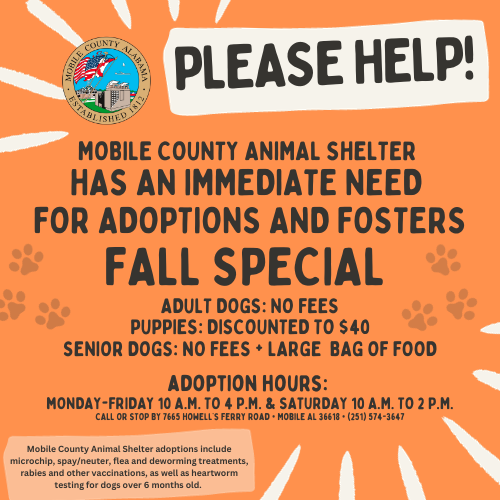 MOBILE COUNTY, Ala. -- Fall is the tail end of the annual pet population boom and Mobile County has an immediate need for adoptions and/or fosters.
For adoptions during November,
Adult dogs are completely sponsored

= $0 adoption fees

Puppies are discounted = $40 adoption fees

Because November is Adopt a Senior Dog Month, adopted senior dogs will each go to their forever home with a big bag of food.
Many adoptable dogs have already been spayed or neutered and can leave for their forever home today!
Treatments for any heartworm-positive dog are sponsored, too (thanks Mobile County PALS!!)
Mobile County Animal Shelter adoptions include microchip, spay/neuter, flea and deworming treatments, rabies, and other vaccinations, as well as heartworm testing for dogs over 6 months old.
-OR-
Local residents who want to help give a dog a break from the shelter can temporarily host a pet in their home through Mobile County Animal Shelter's foster program. HOW TO FOSTER: submit a completed application, driver's license (or ID), proof of residence, and, if renting, documentation that pets are allowed. Once the application is approved, foster animals can be picked up or delivered.
Mobile County Animal Shelter ADOPTION HOURS are Monday through Friday from 10 a.m. to 4 p.m. and Saturday from 10 a.m. to 2 p.m.
Call or come by Mobile County Animal Shelter • 7665 Howell's Ferry Road • Mobile AL 36618 • (251) 574-3647
CLICK HERE for a brief video from our Animal Services Administrator.