Love Your Community Program Awards First Incentives
Posted on: Jan 10th, 2022 | News and AnnouncementsPress Releasesfeatured news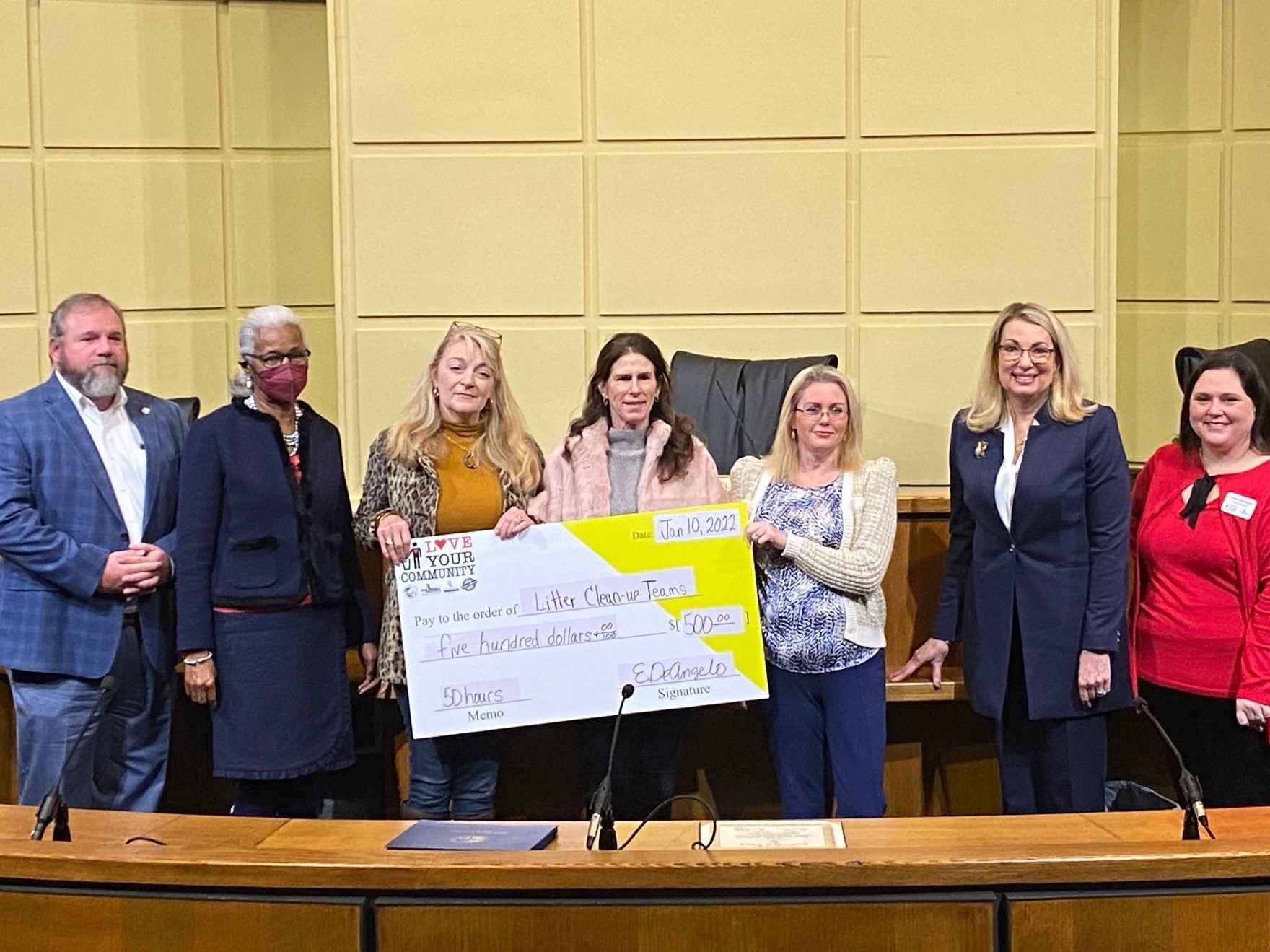 MOBILE COUNTY, Alabama – Two local volunteer teams were each awarded $500 grants from the Love Your Community grant incentive program for their efforts to keep Mobile County litter free. The grants were presented during the Jan. 10, 2022 Mobile County Commission meeting.
The first two teams to earn grants each completed more than 50 hours of litter pick up and disposal in a pre-selected area:
The Litter Ladies Team,

led by Sallye Irvine, will use their grant to add recycling bins at Wilmer Hall cottages.

Dauphin Island A Team

, led by Courtney Leytham, will use their grant to landscape an area near the Dauphin Island Marina where a memorial bench will be placed.
Commissioner Connie Hudson, who spearheaded the Love Your Community effort said, "we're delighted to award grant funding to these two teams through the program's time-banking initiative. We're looking forward to awarding many more as volunteers engage with the program and work to keep litter out of our community and waterways."
In accepting one of the $500 grant awards, Sallye Irvine, long-time community volunteer and Litter Ladies team representative, said: "We're excited that doing something we love to do has turned into a gift for others."
Sixty-one teams are currently participating in the Love Your Community Time Bank and 10 of those are within 10 hours of obtaining grant funding, according to the program coordinator, Evelyn DeAngelo.
Grants earned through time-banking volunteer activity must be used for projects in public rights-of-way and common areas for recycling, community gardens, park projects and other environmentally friendly project ideas in addition to beautification of areas within rights-of-way.
The Love Your Community (LYC) program is funded by Mobile County Commission, operated through a partnership with Keep Mobile Beautiful, and engaged with the Alabama Coastal Heritage Trust and Clean Water Future.
LYC was first established in 2018 as a program to encourage citizen involvement in addressing the overwhelming litter problems within our community and to promote a cleaner, healthier and more attractive environment. Over 65 LYC teams with more than 600 volunteers became involved in the effort pre-pandemic. COVID-19 impacted participation and the program was relaunched April 22, 2021 with a time-banking incentive program for teams to earn thousands of dollars in grant funding.
The program allows Love Your Community registered teams, which may be comprised of one to 50 or more members, to select a location(s) within Mobile County to monitor, organize and schedule ongoing clean-up activities as determined by each team. Clean-up supplies including litter grabbers, T-shirts, vests, gloves and disposable trash bags are provided to participating teams upon request.
Registered teams that choose to participate in the time-banking initiative deposit their volunteer hours by submitting the required information and photos, either through www.loveyourcommunity.com or by mail to the LYC Coordinator. Eligible activities for time banking include litter pick up and disposal, community clean-up efforts, volunteering at recycling centers or hosting recycling events and beautification projects. Volunteer hours are held in the Love Your Community Time Bank and continue to accumulate until requirements allow deposits to be exchanged for grant funding.
For the LYC and time-banking program descriptions and information, team registration and frequently asked questions visit www.LoveYourCommunity.com, call 251-444-7144 or email coordinator@loveyourcommunity.com.
Funding for the program is provided in part by the Gulf of Mexico Energy Security Act (GOMESA).
PHOTO L-R: Commissioners Dueitt and Ludgood, LYC volunteers Sallye Irvine, Victoria Stimpson and Courtney Leytham, Commissioner Hudson and LYC Coordinator, Evelyn DeAngelo.