Limited Jan. 12 Tornado Debris Pick-up in North Mobile County
Posted on: Jan 20th, 2023 | News and AnnouncementsPress Releasesfeatured news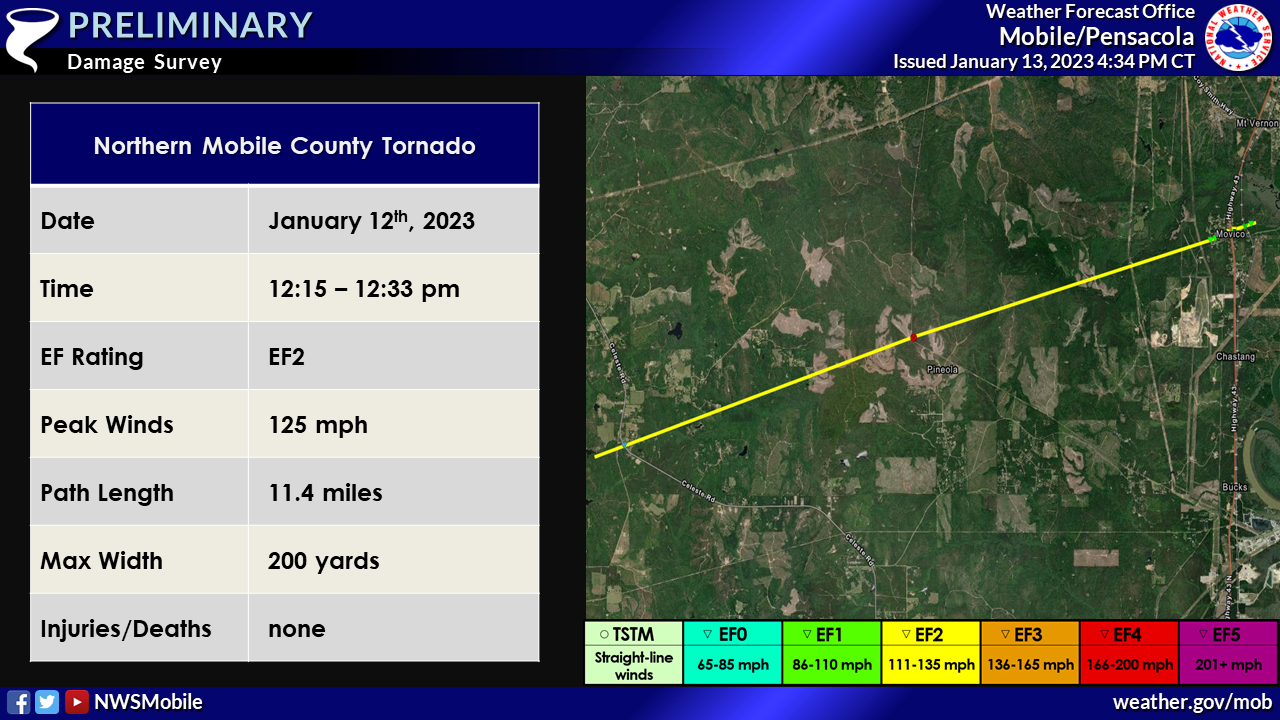 MOBILE COUNTY, Ala. – Mobile County Public Works will pick up tornado debris within its rights-of-way in limited areas, as approved by the Mobile County Commission on Thursday, January 19, 2023.
National Weather Service in Mobile determined an EF2 tornado touched down in north Mobile County: west of Old Citronelle Road, east of U.S. Highway 45 near Gulfcrest through forested areas. It left a significant tree debris signature around Movico Loop roads and U.S. Highway 43 near Cedar Creek Landing Road. These are in Mobile County Commission District 1.
Public Works cleared debris from Mobile County roads after the tornado and, with Commission approval, will pick up tornado-related debris in Mobile County rights of way within the affected area. Public Works will conduct assessments in the affected area on Friday, Jan. 20, and will begin picking up tornado debris placed by residents in Mobile County rights-of-way Jan. 23. Due to the amount of tree damage in the area, this work is expected to take one to two weeks.
Mobile County Public Works Department will only:
Undertake removal of tornado debris within the limited impacted areas identified by the National Weather Service.

Pick up tornado-related debris that has been placed in rights-of-ways along the confirmed paths of the tornado (see NWS graphic)

Pick up debris resulting from this weather event only.
Public Works will not pick up household garbage, appliances, building materials, or hazardous waste.
Questions? Contact Mobile County Public Works at 251-574-4030 during regular business hours.
------
EDITED Jan. 21, 2023:
The first version of this release stated "vegetative debris" only. Residents may place tornado-related debris on Mobile County rights-of-way in limited areas within the direct path of the tornado, this includes construction and demolition debris resulting from Jan 12 tornado damage.