Escatawpa Hollow Park & Campground Reopening for Limited Day Use
Posted on: Oct 18th, 2022 | News and AnnouncementsPress Releasesfeatured news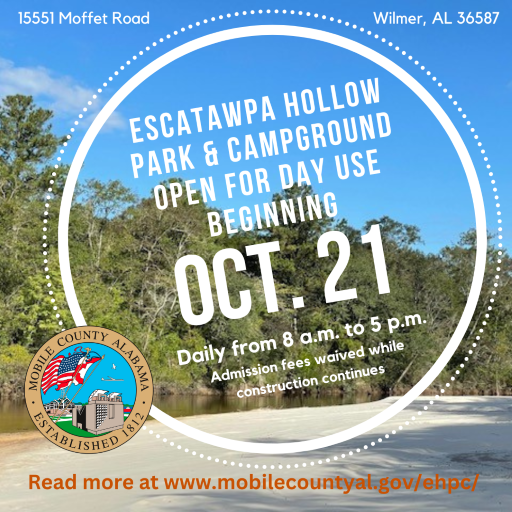 MOBILE COUNTY, Ala. – Escatawpa Hollow Park & Campground, located at 15551 Moffett Road in Wilmer, Alabama will be reopened for limited day use by Commissioner Connie Hudson at a brief program on Friday, Oct. 21, 2022 at 10 a.m.
Effective Friday, Oct. 21, 2022, Escatawpa Hollow Park & Campground will be open daily from 8 a.m. to 5 p.m. with admission fees waived while park use is limited during continued construction.
Visitors will have day-use access to the river and beaches, restrooms and parking, pavilions with picnic tables and grills, as well as some walking trails. Park signage will help guide visitors to the open areas of the park.
Escatawpa Hollow Park & Campground was temporarily closed for major construction in April 2021. Park Improvement Phase 1A is substantially complete. Phase 1A included infrastructure work like water/sewer and roads, a day use area with beach access, restrooms, parking, eight picnic pavilions (including handicap accessible), walking trails, and an RV campground with a restroom/shower/laundry facility.
"I'm thrilled to reopen Escatawpa Hollow Park & Campground for day use and allow public access to this gem in Mobile County's park system, which features the beautiful contrast of the blackwater Escatawpa River and its white sand beaches," said Commissioner Connie Hudson, who has championed the park's acquisition, development and expansion. "We're excited about the work that's been completed and look forward to seeing our plans become reality," she added.
This phase of park improvements has been funded by a $3.5 million state GOMESA grant provided by Gov. Kay Ivey and the Alabama Department of Conservation and Natural Resources.
"Once again, with the help of the Alabama Department of Conservation and Natural Resources, as well as local leadership, Alabama is making great use of $3.5 million in GOMESA funding to expand and renovate Escatawpa Hollow Park and Campground in Mobile County," said Governor Ivey. "Providing Alabamians with convenient and safe access to the outdoors is important, and I'm proud to put these funds towards doing just that."
Escatawpa Hollow Park & Campground is still under construction and many exciting additions are underway or in planning for visitors to enjoy. The RV campground is expected to open in early 2023. Phase 1B construction will begin later this fall and includes a café, general store, Black Water River interpretive center and playground.
Phase 2 is in planning and future amenities are expected to include rentable cabins and a few tree houses, a small conference center, a disc golf course, more river beach access areas, rentals for tubing or paddling, as well as more walking and biking trails.
The once privately owned park has doubled in size since acquisition by the Mobile County Commission in January of 2019. An additional 111 acres was purchased in February of 2022 and Escatawpa Hollow Park & Campground is now nearly 200 acres.
Escatawpa Hollow Park & Campground construction is part of the Mobile County Commission's multi-year, $40 million parks improvement initiative that includes $35 million to increase public access to water. The Parks Initiative and these park improvements, funded by the Gulf of Mexico Energy Security Act (GOMESA), are designed to increase public access to shoreline recreational areas including the black waters of the Escatawpa River. The park encompasses a diverse ecosystem of native plant and animal life for the enjoyment of all guests.
All Mobile County parks are designed to be family-friendly allowing visitors of all ages to enjoy the beautiful outdoors. Therefore, the use of alcohol and similar substances are strictly prohibited. Litter is prohibited as well, to protect this scenic, natural resource and maintain its natural beauty for future generations.
Escatawpa Hollow Park & Campground is located on the south side of Highway 98 at the Alabama/Mississippi line. The Escatawpa River forms a portion of the border between Alabama and Mississippi and flows north-south through Mobile County, Alabama. The park is open 7 days a week from 8 a.m. to 5 p.m. For more information contact MoCoParks@mobilecountyal.gov or 251-574-7275.