Commissioner Hudson Honored by Alabama Association for Career and Technical Education
Posted on: Sep 1st, 2021 | News and AnnouncementsPress Releasesfeatured news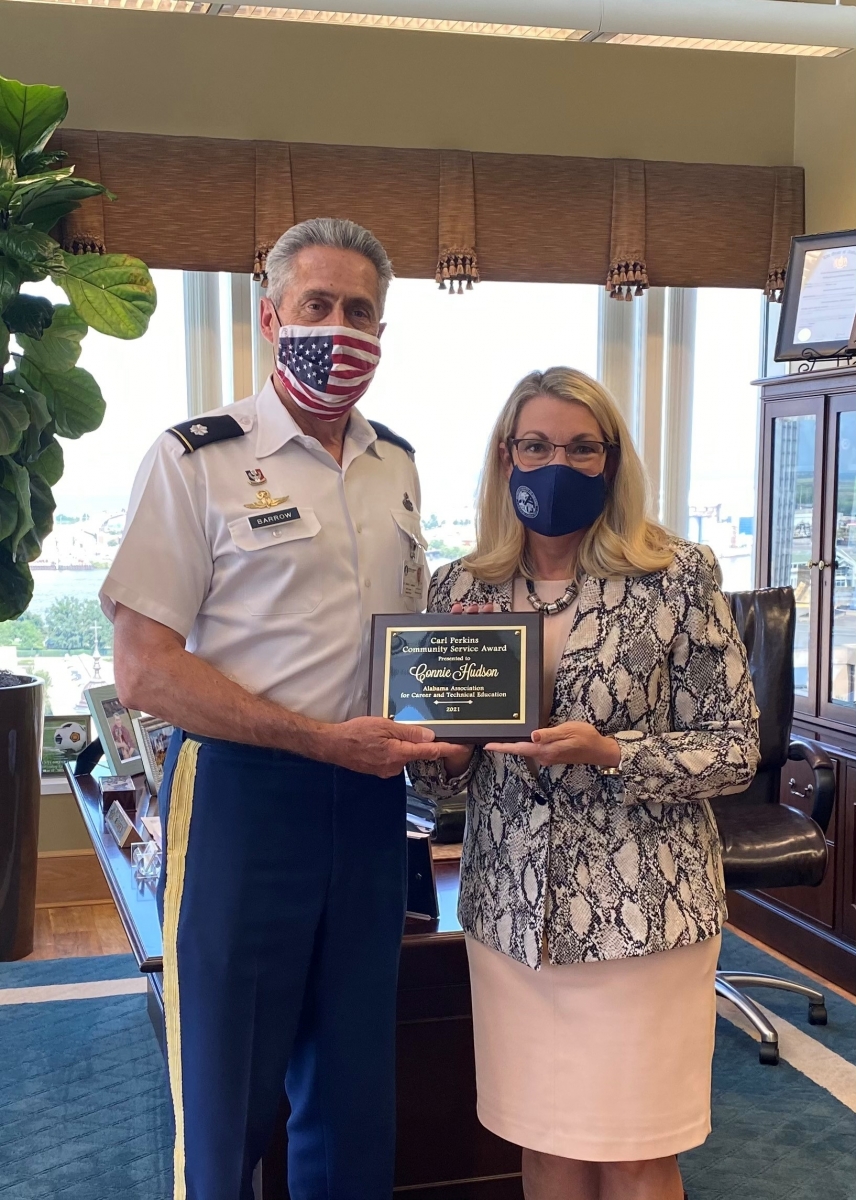 MOBILE COUNTY, Ala. – District 2 Mobile County Commissioner Connie Hudson was recently recognized by the Alabama Association for Career and Technical Education (ALACTE) as the 2021 Carl Perkins Community Service Award recipient. U.S. Army Lt. Colonel Robert F. Barrow, who serves as the Mobile County Public School System Director of Army Instruction for ROTC, presented the award to Commissioner Hudson on September 1, 2021 at Mobile Government Plaza.
The ALACTE annual Carl Perkins Community Service Award recognizes individuals who have supported career and technical education to positively impact the community and who demonstrate leadership in programs and activities that promote student involvement in community services.
According to ALACTE, Commissioner Hudson was nominated for this award because of her "deep support of our business and industry community" and her commitment to bringing high paying jobs to Mobile County as evidenced by the number of businesses that she has helped to recruit during her public service tenure. She has participated in major economic development recruitment efforts that have included AM/NS Calvert, Austal USA, the Airbus U.S. Final Assembly Line and A220 expansion at Brookley Aeroplex, and the Walmart Distribution and Amazon Sortation Centers.
In addition, she was described in her nomination as a strong advocate for career and technical education who supports internships with numerous business and industry partners in providing opportunities that are specifically designed to help high school students get an insight as to what careers exist in our area. "I am truly honored to receive this recognition" stated Commissioner Hudson. "I believe it's critical that we engage our youth and adults alike in opportunities that provide them exposure to academic and technical skills needed by employers in today's market."
Commissioner Hudson will represent Alabama as the 2021 Carl Perkins Community Service Award Recipient at the National ACTE regional conference in 2022.
About ALACTE
The Alabama Association for Career and Technical Education (ALACTE) is a state-level affiliate of the National Association for Career and Technical Education, one of the largest national bodies representing CTE stakeholders in the United States. ALACTE is a voice for all of Alabama's educators in career and technical education fields, representing members in all of the state's sixty-seven counties. ALACTE's primary work combines educators, industry leaders, government officials, and other stakeholders to develop a competitive workforce through advocacy, professional development, and public relations.