Commission Receives Grant to Improve the Mobile County Recycling Center
Posted on: Jun 16th, 2022 | News and AnnouncementsPress Releasesfeatured news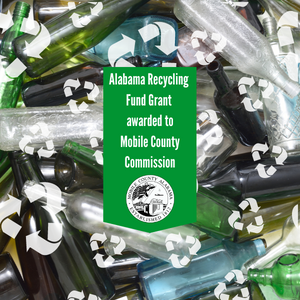 MOBILE COUNTY, Ala. – The Mobile County Commission has been awarded grant funding totaling nearly $200,000 from the Alabama Department of Environmental Management (ADEM) for equipment at the Mobile County Recycling Center that will reduce the volume of glass deposited in landfills.
Mobile County Recycling Center, 7450 Hitt Road, Mobile AL 36695, is managed by Goodwill Gulf Coast, but it is owned and funded by the Mobile County Commission.
The Alabama Recycling Fund grant will fund a glass pulverizer, hoppers for loading glass into the equipment and for receiving the processed materials, a pad for the equipment and storage space for the pulverized sand and gravel.
Once the grant funding is received and the project implemented, Mobile County Recycling Center will no longer ship recyclable glass out of state for processing.
In 2021, glass made up 17% of the material composition of the recyclables collected at the Mobile County Recycling Center, up from 14% in 2018. Since Mobile County Recycling Center opened in November 2014, 19.6 million pounds have been diverted from landfills, with volume increasing each year. In 2021, the facility averaged 413 cars per day, up from 406 in 2020. Overall volume is expected to continue to increase.
"The Mobile County Commission is delighted that ADEM chose this project from among nearly 30 applications received," said Mobile County Commission President Connie Hudson who championed the Recycling Center's construction. "The addition of a glass pulverizer will not only save shipping costs, but the sand and gravel produced can be used for many different local applications," she added.
The glass pulverizer at Mobile County Recycling Center will also help further education efforts about recycling and provide collaborator, University of South Alabama Civil Engineering, a dynamic learning environment centered on recycling glass. The glass pulverizing operation will eventually be included in public tours of the facility.
"Mobile County Recycling Center and the pending addition of the glass pulverizer are excellent examples of community collaboration and we'll see the benefits of this Alabama Recycling Fund grant far into the future," said District 1 Commissioner Merceria Ludgood.
"We're pleased that Mobile County Commission is a recipient of a 2022 ADEM grant dedicated to local recycling efforts. Once operational, this equipment will enable Mobile County to locally recycle more than a half million pounds of glass each year," said District 3 Commissioner Randall Dueitt.
This equipment will help fulfill Mobile County Commission's goals for the Recycling Center: to reduce the amount of solid waste deposited into landfills, recycle materials, promote community education programs, and provide job training and employment to persons with disabilities.