Next Phase of Chickasabogue Park Construction Beginning
Posted on: Apr 10th, 2023 | News and AnnouncementsPress Releasesfeatured news
MOBILE COUNTY, Ala. (April 10, 2023) – Mobile County Commission awarded the bid for Chickasabogue Park's next substantial phase of construction on April 10, which moves the largest Mobile County park further along the path to reopening.
The bid for the day use/entry area and trail improvements was awarded to J Hunt Enterprises for their total bid in the amount of $6,905,134. It includes demolition and construction of the existing entry area, upgrades to existing amenities like bike trails and basketball courts, and construction of new parking areas. A new splash pad, renovated playground area, restroom facilities and construction of a large pavilion are key features during this phase. The construction contract for this work is 270 days or about nine months.
In this phase of construction (see construction drawings below) and in future phases, Mobile County anticipates reopening Chickasabogue Park and sectioning off areas of active construction, but only after the entrance demolition and construction has progressed enough to ensure visitors' safety. A reopening date will be announced as soon as it is available.
IMAGE: New entrance and parking lot construction drawing (photo credit Mobile County Commission).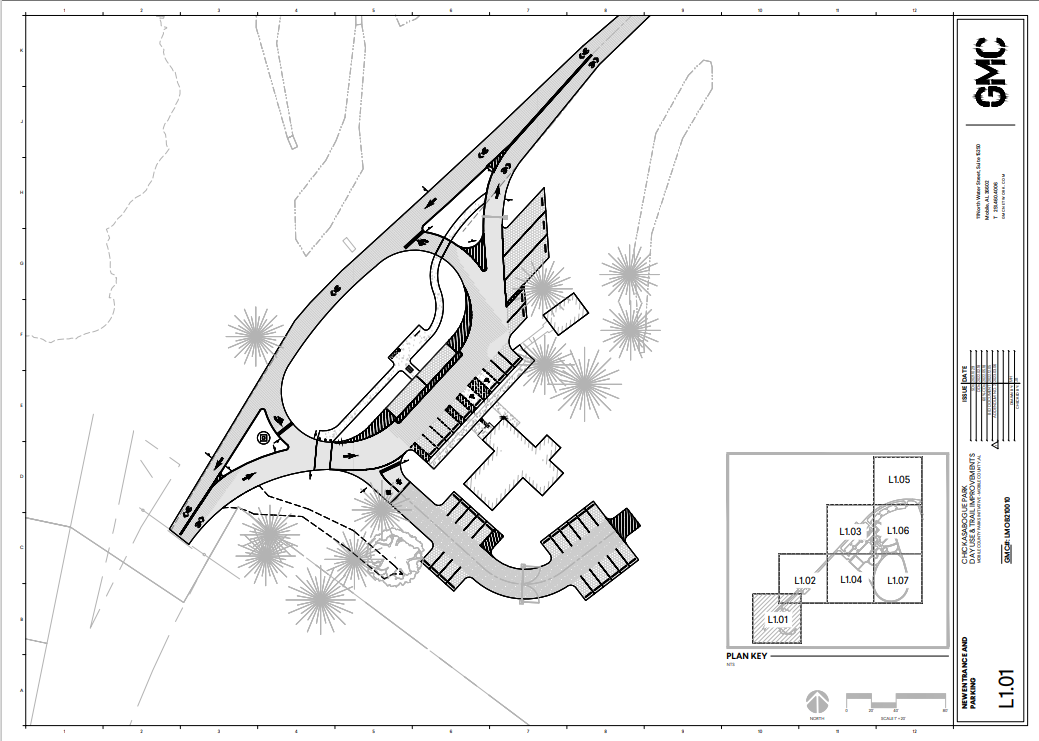 IMAGE: Day use and parking construction drawing (photo credit: Mobile County Commission).
Chickasabogue Park was closed January 2022 for major upgrades and renovations, which Mobile County anticipated would take about a year, based on construction estimates. As with most recent construction projects, Mobile County's active parks projects are experiencing delays related to supply chain, materials, labor and increased construction costs.
Since Chickasabogue Park closed for construction, a major utility upgrade (water, sewer, electrical) has been occurring throughout the park and is almost complete with some electrical work remaining due to materials delays. Large-scale renovation of the disc golf trail is substantially complete, and will be fully complete within the next two to three weeks.
"At 1,100 acres and with its wide variety of activities from beach and boat launch to trails, ball fields and disc golf, and more, Chickasabogue Park has long been considered the crown jewel of Mobile County parks. It is frustrating for everyone that this and other major Mobile County construction and renovation projects are slower than anticipated and we sincerely appreciate everyone's patience as we work to build this park and a Mobile County Parks System of which we can all be proud," said District 1 Commissioner Merceria Ludgood who represents the area that includes Chickasabogue Park.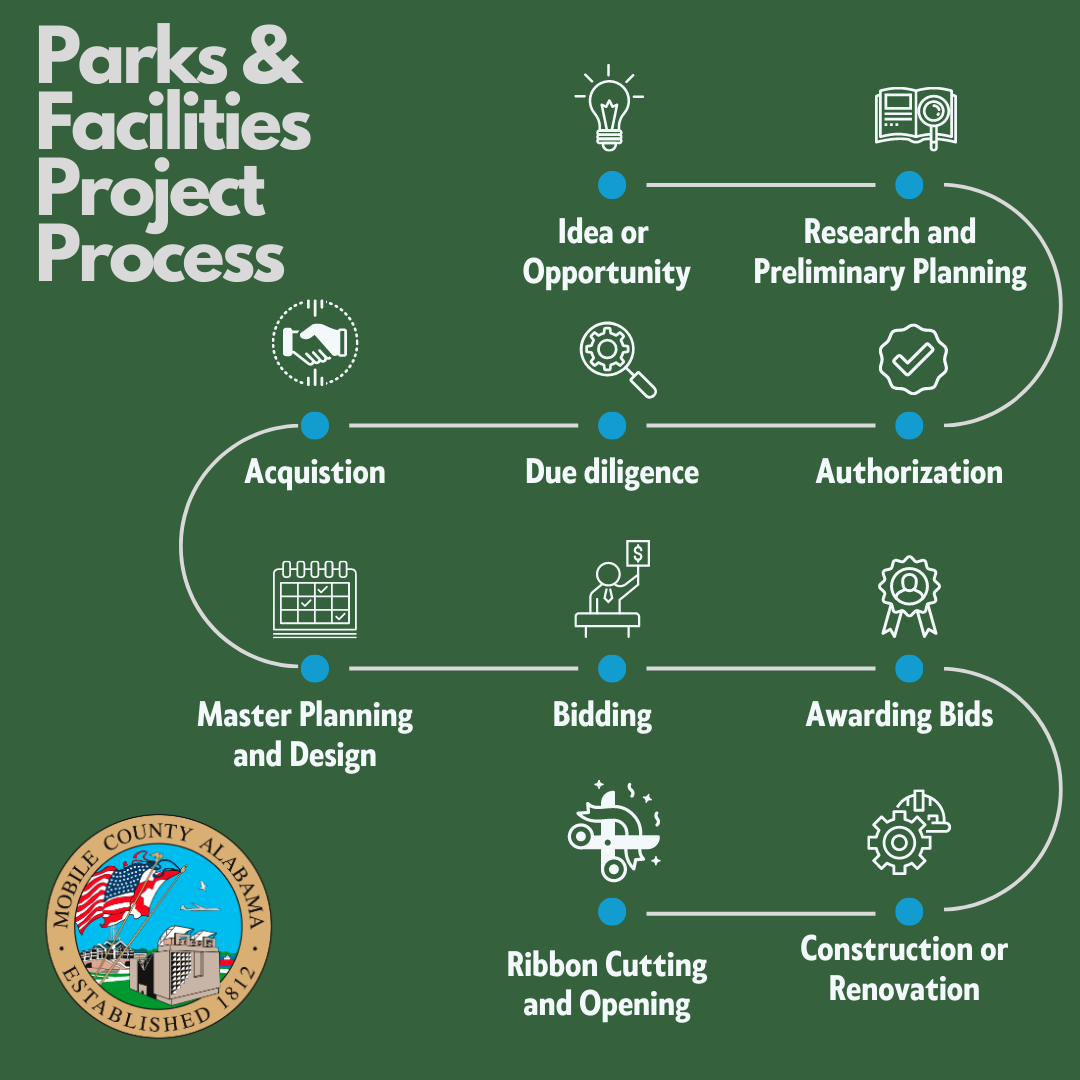 In the best of circumstances, Mobile County's facilities/infrastructure building process takes time. Each of Mobile County's major construction projects goes through a process indicated by this graphic. Construction estimates provide a guide to project length, but all projects are dependent upon materials and labor availability, as well as conducive weather.
Chickasabogue Park upgrades are funded by the Gulf of Mexico Energy and Security Act (GOMESA), from which four of the five Gulf States receive offshore oil drilling revenue. Coastal counties (Mobile and Baldwin) and the State of Alabama receive funds from this revenue source that can be aimed toward Coastal restoration, conservation and protection projects, which include public access-to-water projects that are central to the Mobile County Parks Initiative. Other Mobile County projects that are fueled by GOMESA funding include: Escatawpa Hollow Park & Campground, Cedar Point Pier, Mobile County's future golf course and waterfront park (the former Linksman) and Memories Fish Camp.
Mobile County Commission posts bid or active projects at https://www.mobilecountyal.gov/bids/ and announcements about Mobile County parks are posted on https://www.mobilecountyal.gov/latest-news/, as well as on Facebook, Instagram, LinkedIn, Twitter and through updates on Google: "Mobile County Commission."