Africatown Heritage House Building Taking Shape
Posted on: Nov 16th, 2021 | News and Announcementsfeatured news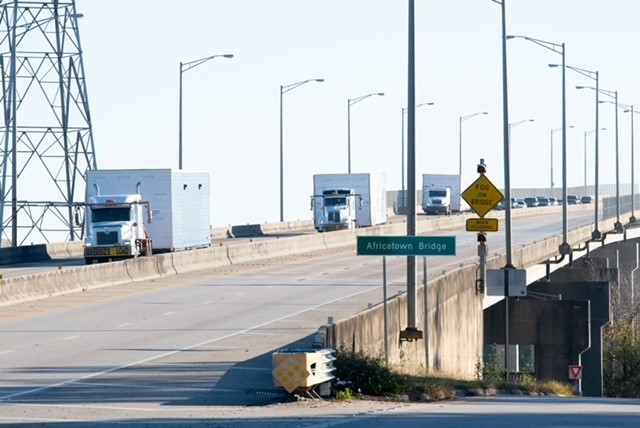 MOBILE COUNTY, Ala. -- Six modular units that will become Africatown Heritage House arrived for on-site assembly Nov. 12 and Nov. 16.
Africatown Heritage House is a $1.3 million project is a collaborative community effort that will eventually house a History Museum of Mobile exhibit about 110 enslaved West Africans, the ship that brought them to Alabama, and the unique community of Africatown.
The project is spearheaded by Mobile County Commissioner Merceria Ludgood in collaboration with the History Museum of Mobile, the City of Mobile, Alabama Historical Commission, the Alabama State Council on the Arts, multiple donors, Africatown community organizations and an Africatown Advisory Council. Africatown Heritage House will be operated by the History Museum of Mobile.
"The modular units' arrivals are a tremendous leap forward," said Commissioner Merceria Ludgood. "Interest is high and we look forward to sharing the educational and inspirational story of Africatown with the world through what will be powerful and emotional exhibits," she added.
Africatown Heritage House broke ground in February 2021. The project has experienced permitting and COVID-related logistics delays. Contractors estimate two months of finishing work. The History Museum of Mobile has been working for more than a year to curate the opening exhibit and estimate installation will take 12 weeks. The new estimated Africatown Heritage House opening is April/May 2022.
The new, approximately 5,000-square-foot building will consist of an entry porch, lobby, restrooms, conference room, offices and exhibit hall. A memorial garden will also be designed as part of the landscape and will incorporate sculptural ceramics from renowned artist Charles Smith. Its exterior finishing material will be lap siding painted in colors selected to honor the enslaved occupants of the Clotilda and to symbolize the strength and perseverance of their descendants.
Africatown Heritage House will feature "Clotilda: The Exhibition," curated by the History Museum of Mobile, which tells the long-untold story of the nation's last known slave ship, and the town created by the survivors of those who were brought to Alabama on that ship.
The exhibition will focus on the people of the story – through a combination of interpretive text panels, documents, and artifacts.

The exhibition begins with the story's West African origins, following the narrative through the establishment of Africatown and the discovery of the sunken schooner.

The pieces of the shipwreck that have been recovered from the Mobile River will be on view, on loan from the Alabama Historical Commission.
"Woven into the larger story, visitors can expect to see and hear lots of primary source reports and stories of individuals: their histories, their families, and their resilient spirit," said Meg McCrummen Fowler, Director of the History Museum of Mobile.
This is the permanent facility. Modular unit construction was selected as a quick method of construction. Through this process, the building is constructed in portable modules at a manufacturing facility, transported and then assembled and finished on site.