About: "The Memory Keeper" Sculpture in the Memorial Garden at Africatown Heritage House
Posted on: Feb 2nd, 2023 | News and AnnouncementsPress Releasesfeatured news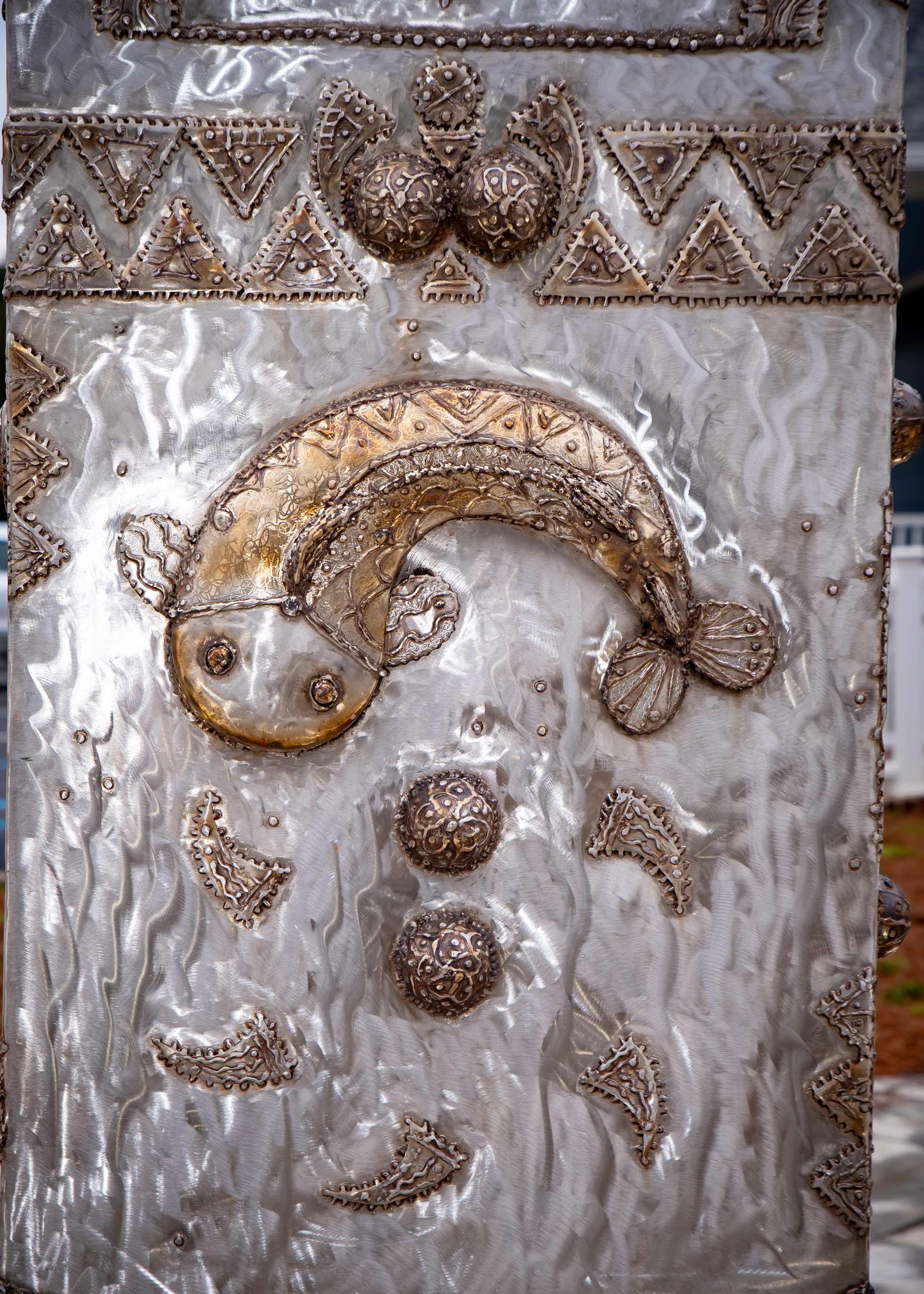 Location: Africatown Heritage House Memorial Garden (2465 Winbush Street • Mobile, AL 36610)
Artists: Charles Smith and Frank Ledbetter
Size: height: 9 feet, width: 2 feet 8 inches, depth: 1 foot 4 inches
Construction: Stainless steel • Welded • Textured with welding • Heated to achieve bronze color
Commissioned by: Mobile County Commission, District 1 Commissioner Merceria Ludgood
Dedicated: Feb. 3, 2023
DESCRIPTION:
The Memory Keeper is a true collaboration between two Mobile-area artists of national acclaim who share the commonality of being U.S. veterans of the Vietnam era, but who are different in so many ways – from the media in which they work to their heritage and lived experiences. It is the latest of many collaborations between Smith and Ledbetter, who had complete artistic freedom with this creation. Planning and construction of The Memory Keeper took several months.
The Memory Keeper is an homage to bronze and cast iron plaques that hung in West African palaces hundreds of years ago. Many of these hang in prominent museums, though some are now back in their countries of origin. It is a four-panel storyboard, with no designated first panel. Metalworking techniques that were used to create the sculpture make it seem color changing in sunlight; some elements appear gold in full sun.
The artists used shapes and symbols in The Memory Keeper purposefully to represent the past, present and future of Africatown. It does not depict the ship Clotilda; rather, it keeps the story of the 110 enslaved West Africans and their descendants.
The Memory Keeper is rife with symbolism and offers common themes of origin, family, survival, and resilience. Each element in The Memory Keeper, from shape to form, has meaning and relevance to the story of Africatown.
One broad side features 110 marks representing each of the West Africans brought to enslavement 52 years after that action was outlawed, centered on two marks (male; female) then spiraling out in an expanding pattern depicting families and descendants.

The other broad side features a reptile commonly used in West African art to symbolize wisdom, protection, keeping knowledge and a new beginning.

The Memory Keeper

includes multiple symbols of an Oba (West African king) to represent royalty and the affluence of that once-prospering region.

Many river delta elements, such as reptiles, birds, and fish are common to West Africa and Alabama, the familiarity of which helped the initial group upon their landing and time on 12-mile Island.

The mudfish, a creature that burrows and lays dormant during drought but returns during rain, symbolizes the way the story of Africatown and its people lain untold for more than a century, but was kept alive and is now revived to worldwide attention.

A deconstructed mask symbolizes secrecy.

The Memory Keeper

contains multiple symbols of rebirth as well as elements of the past and of the future. Some forms in the sculpture represent the artists themselves, such as Smith's pottery pattern and Ledbetter's turtle, as abstract signatures; merging the contemporary with the historical.

The artists sealed a small soil sample from West Africa within the sculpture, never to be seen – rather, to be felt.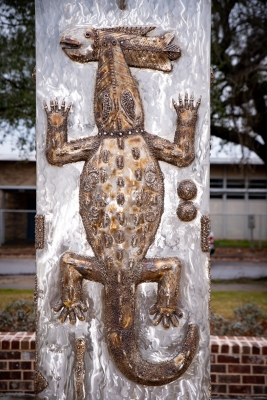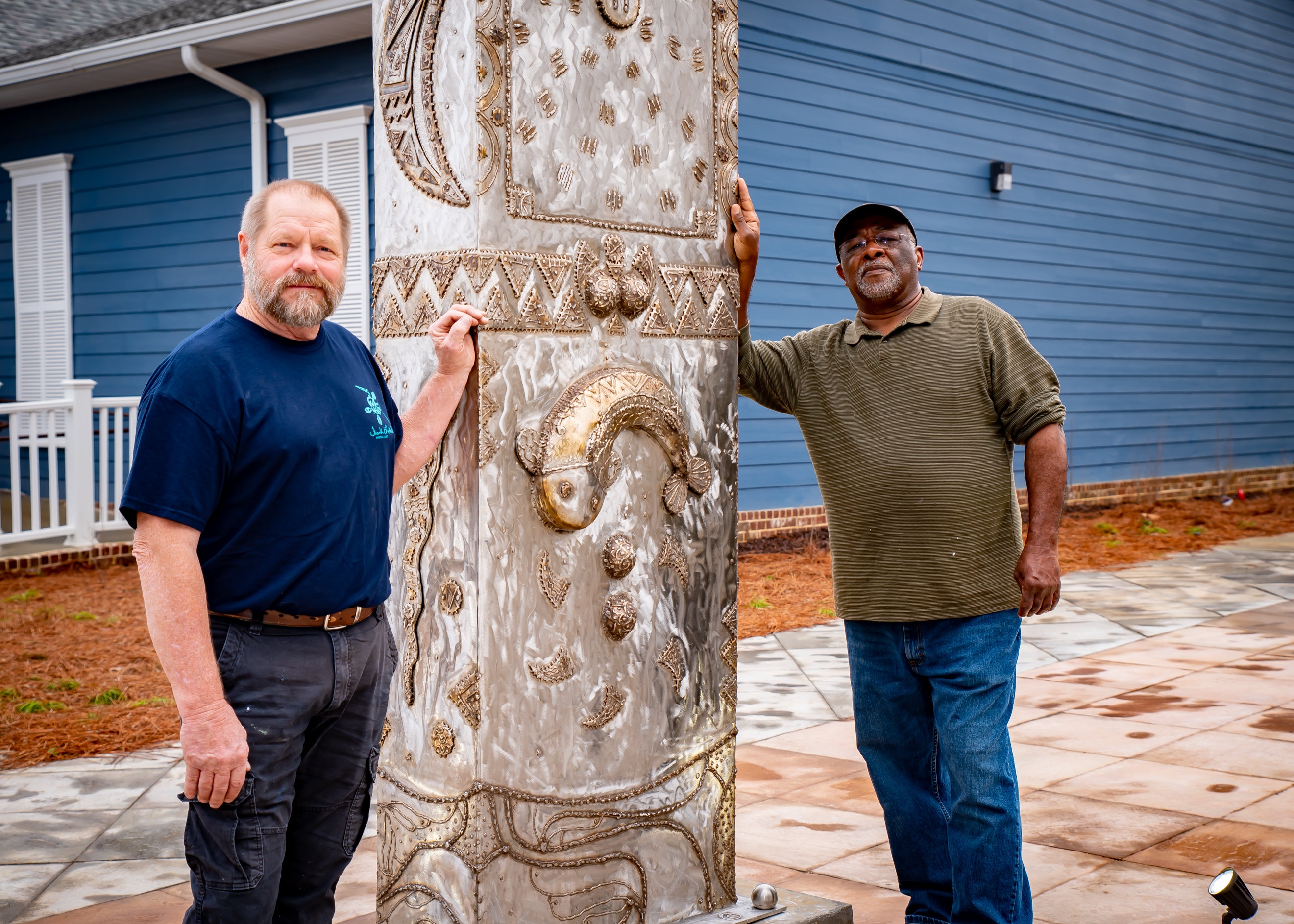 The Memory Keeper has no front or back, no beginning or end. The point at which each viewer approaches the sculpture is the point at which his or her interpretation should begin. The artists invite viewers to take time with The Memory Keeper. Their goals are to educate viewers on the story depicted through The Memory Keeper, from the 12th century into the future, and to inspire a desire to learn more. The story of Africatown is unique. Its past is now revealed and its future is yet unwritten. May the community and its people thrive as this long-dormant story illuminates American history as the sun illuminates the alligator.
THE ARTISTS:
Charles Smith, has been a professional artist using the medium of clay for more than 45 years after he found great comfort in art upon his return from the Vietnam War. Gulf Coast marine life and environmental elements play a key role in his work. His recognizable wave patterns flow seamlessly through his pieces allowing him to connect his experiences, his surroundings, and his heritage. With a passion for history and storytelling, he demonstrates deep appreciation and respect for his ancestors. His work consistently honors their legacy – whether in pots, ceremonial pieces, masks or other forms via African themes and influences. His art can be found throughout the U.S. and internationally in private collections, public art and on museum display. Smith's studio is in Mobile, Alabama and he can be found on social media @SmithPots.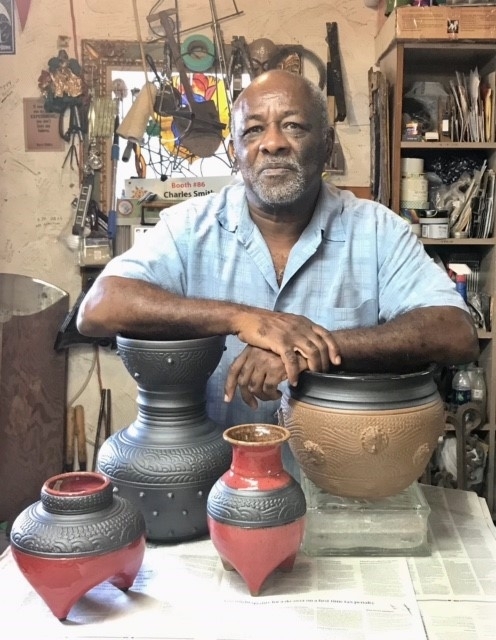 Frank Ledbetter, a U.S. Marine Corps veteran, operated a metal fabrication company in Mobile, Alabama for more than 25 years. After losing his son in an accident, he found solace using his metalworking skills for artistic purposes. All of Ledbetter's art pieces bear his signature and his son's initials "BWL." A self-taught artist who works mostly in aluminum and stainless steel, with some mixed media series' featuring driftwood, scrap metal and found objects, s work draws heavily on his Gulf Coast roots and frequently depicts marine life. His public and commissioned art can be found throughout the U.S. and internationally and he has appeared on the Netflix series Metal Shop Masters. Ledbetter's studio is in Theodore, Alabama and he can be found online at www.frankledbetter.com or on social media @FrankLedbetterArt