$10,000 in Grants Awarded to Love Your Community Teams for Service Hours
Posted on: Sep 12th, 2022 | News and AnnouncementsPress Releasesfeatured news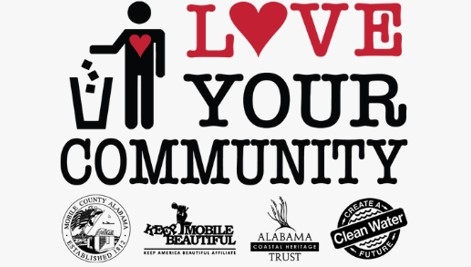 MOBILE COUNTY, Ala. -- $10,000 in grants to eight Love Your Community teams were presented at the Mobile County Commission meeting on Sept. 12, 2022. [see teams and projects below]
Commissioner Connie Hudson, who spearheaded the Love Your Community effort said, "these teams are truly making a difference in beautifying Mobile County and keeping litter out of our community and waterways. Their efforts are greatly appreciated!"
One hundred thirty (130) teams are currently participating in the Love Your Community Time Bank, according to the program coordinator, Evelyn DeAngelo.
Grants earned through time-banking volunteer activity must be used for beautification projects in public rights-of-way or common areas for recycling, community gardens, park projects, and other environmentally friendly project ideas.
The Love Your Community (LYC) program is funded by Mobile County Commission, operated through a partnership with Keep Mobile Beautiful, and engaged with the Alabama Coastal Heritage Trust and Clean Water Future.
LYC was first established in 2018 as a program to encourage citizen involvement in addressing the overwhelming litter problems within our community and to promote a cleaner, healthier and more attractive environment. Over 65 LYC teams with more than 600 volunteers became involved in the effort pre-pandemic. COVID-19 impacted participation and the program was relaunched on April 22, 2021, with a time-banking incentive program for teams to earn thousands of dollars in grant funding.
The program allows Love Your Community registered teams, which may be comprised of one to 50 or more members, to select a location(s) within Mobile County to monitor, organize and schedule ongoing clean-up activities as determined by each team. Clean-up supplies including litter grabbers, T-shirts, vests, gloves and disposable trash bags are provided to participating teams upon request.
Registered teams that choose to participate in the time-banking initiative deposit their volunteer hours by submitting the required information and photos, either through www.loveyourcommunity.com or by mail to the LYC Coordinator. Eligible activities for time banking include litter pick up and disposal, community clean-up efforts, volunteering at recycling centers, or hosting recycling events and beautification projects. Volunteer hours are held in the Love Your Community Time Bank and continue to accumulate until requirements allow deposits to be exchanged for grant funding.
For the LYC and time-banking program descriptions and information, team registration and frequently asked questions visit www.LoveYourCommunity.com, call 251-444-7144, or email coordinator@loveyourcommunity.com.
Funding for the program is provided in part by the Gulf of Mexico Energy Security Act (GOMESA).
The grants were presented to the following groups for time-banked service hours:
$500 grant (50 service hours)
Coast Guard Aviation Training Center Team

will use the grant for a victory garden at Veterans Resource Recovery (District 2)

$1,000 grant (90 service hours)
VETS Team

in Africatown (District 1) will use the grant for a storage facility and additional community supplies supporting the Navy Recruiter's project.


Team Litter Ladies

in Oakleigh (District 1) will use the grant for a NEST (

Nurture children, Equip parents, Strengthen families, and Transform communities

) project, installing a butterfly pollinator garden and bench at Strickland Youth Center. This is the second LYC grant earned by this team.

$1,500 grant (145 service hours)
Team Lynch

(District 1), Creola City Councilor Wendy Lynch's team will use the grant to help beautify Creola City Hall. This is the second LYC grant earned by this team.


Navy Recruiters Team

(District 1) will use the grant for community access electric rechargeable lawn equipment. Africatown volunteers can check out the equipment to assist others with basic lawn care for neighborhood beautification.


Team Tanner Williams Historical Society

(District 2) will use the grant to help with renovating the Tanner Williams Historical Building's front porch and entrance area.


Mobile Japanese Gardens Volunteer Team

(District 2) will use the funds to build an enclosure decorated with mural art.


Team Revitalize DIP

(District 3) funds towards landscaping community areas and planting flowers, shrubs and trees to beautify areas and prevent future littering.