Mobile County Commission American Rescue Plan Act Update
Posted on: Mar 8th, 2022 | COVID-19News and AnnouncementsPress Releases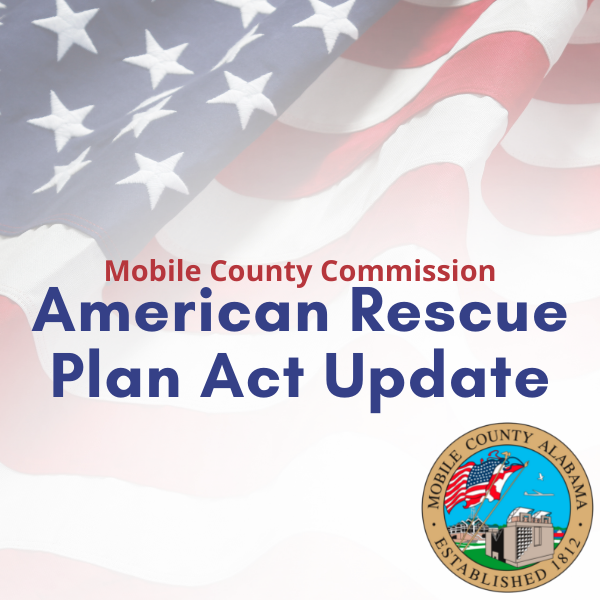 MOBILE COUNTY, Ala. -- The Mobile County Commission is actively working to fund projects submitted for American Rescue Plan Act funding consideration in a timely manner that is in compliance with the federal guidelines and also has the greatest intended impact for Mobile County.
Approximately 200 applications for American Rescue Plan Act funding were received during the priority consideration period in fall 2021.These applications have been through an initial risk assessment to determine whether funding is permissible according to the rules and regulations associated with the American Rescue Plan Act of 2021's State and Local Fiscal Recovery Funds grant.
Commissioners Merceria Ludgood, Connie Hudson, and Randall Dueitt have each received a risk assessment report to review and determine the projects that best adhere to the COVID-19 response funding criteria. The discussion of ARPA funding priorities will be placed on an upcoming Commission meeting agenda before final approval of project selections is granted.
Applicants will be notified by the County of the status of their submitted proposals via the email address provided on the project application. Should a project be selected for funding, the applicant will be required to enter into an agreement with Mobile County that requires adherence to the parameters associated with the proper use of funds and the reporting requirements for each project.
Mobile County Commission received an $80.14 million allocation from the American Rescue Plan Act of 2021. Funding proposal submission was requested before the priority consideration date of Oct. 25, 2021 and not later than Nov. 30, 2021. Proposals continued to be accepted, though applications received later would only be considered if funding remains available. The application submission portal is now closed. Questions regarding a specific application can be emailed to arpa.info@mobilecountyal.gov