Semmes Senior Center Grand Reopening & Building Expansion Ribbon Cutting
Posted on: Jun 1st, 2021 | News and AnnouncementsPress Releasesfeatured news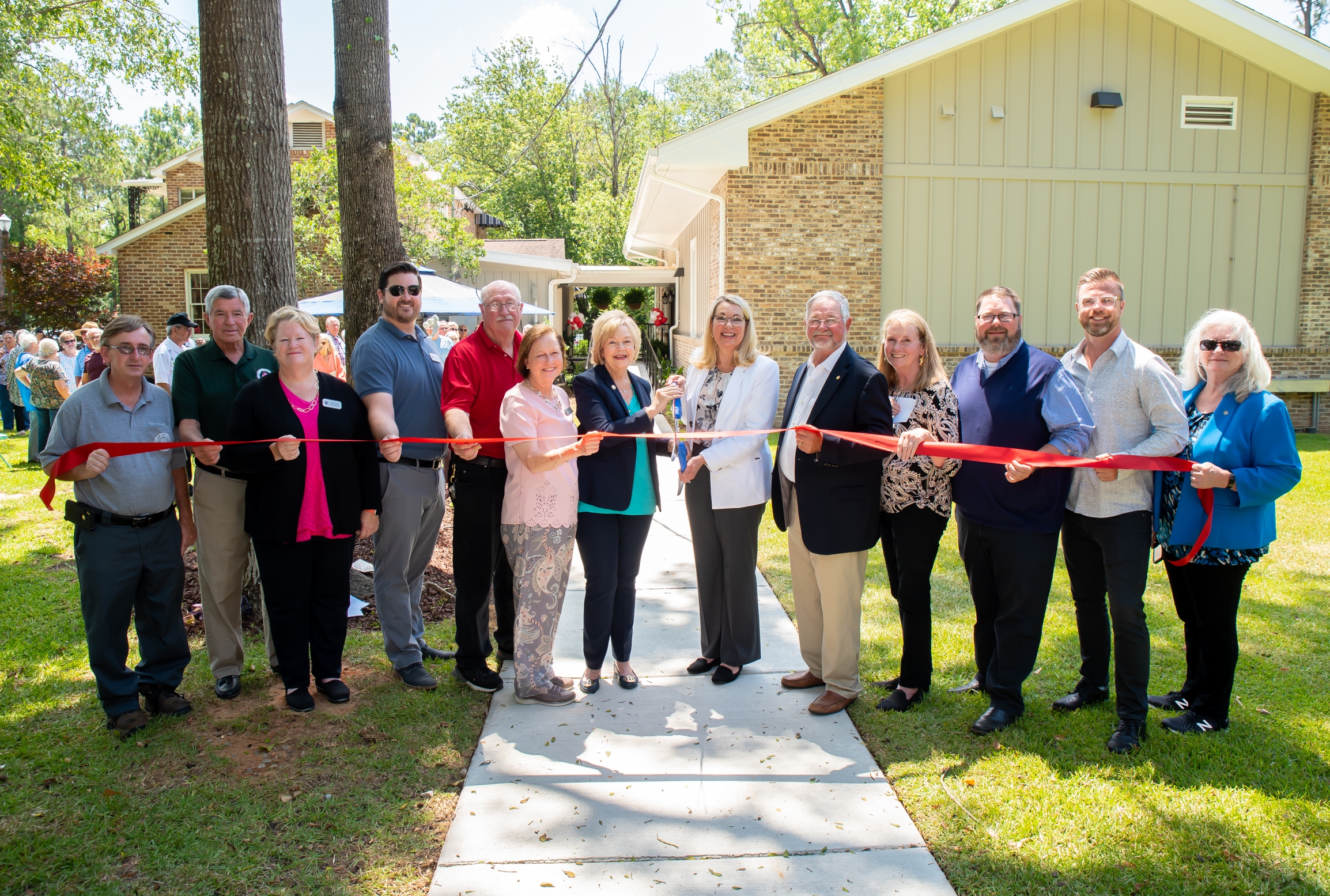 MOBILE COUNTY, Ala. – Following 18 months of construction and an extended closure during the COVID-19 pandemic, Semmes Senior Center reopened June 1, 2021 with an expanded facility and additional space to better serve local seniors.
The Mobile County Commission added 2,640 square feet to the facility in an expanded event space that includes restrooms and a commercial grade kitchen. Twenty-nine parking spaces were also added.
Supported by Mobile County Community Development Block Grant (CDBG) funds, the Semmes Senior Center was developed by the Mobile County Commission with operational assistance from the Semmes Woman's Club and the City of Semmes. The $1 million expansion was made possible through additional CDBG funding secured by the County and District 2 Commissioner Connie Hudson, who has spearheaded the Semmes Senior Center project for more than a decade.
"We are delighted to reopen a larger, more spacious Semmes Senior Center," said Hudson. "With activities now unrestricted, this expanded facility will support senior programs on a larger scale, and keep seniors better engaged through educational, cultural and recreational initiatives," she added.
Commissioner Jean W. Brown of the Alabama Department of Senior Services joined Mobile County Commissioners and others at the Grand Reopening and Ribbon Cutting ceremony. "I was thrilled to be invited by Mobile County Commissioner Connie Hudson to attend the Semmes Senior Center Grand Reopening," said Commissioner Brown. "With the COVID-19 vaccine now widely available, I know our senior adults are excited that their senior centers are now open and they look forward to enjoying the many activities offered by the Semmes center," Brown added.
Located within Semmes city limits at 9635 Moffett Road, the Semmes Senior Center is the former Blackwell-Batson Estate, which was acquired in 2011 by the Mobile County Commission and repurposed through renovation. It opened in 2013 with rooms for exercise, billiards, computer classes, a dining area and a multipurpose room for arts and crafts, games, programs and events.
Membership applications for local residents 62 years old and older are available at the Semmes Senior Center. Annual dues for the center are $40. For more information about the Semmes Senior Center call 251-649-2010 or visit https://cityofsemmesal.gov/community/local-clubs-organizations/semmes-senior-center/.