Mobile County Launches New Online Community Calendar
Posted on: Aug 13th, 2021 | News and AnnouncementsPress Releasesfeatured news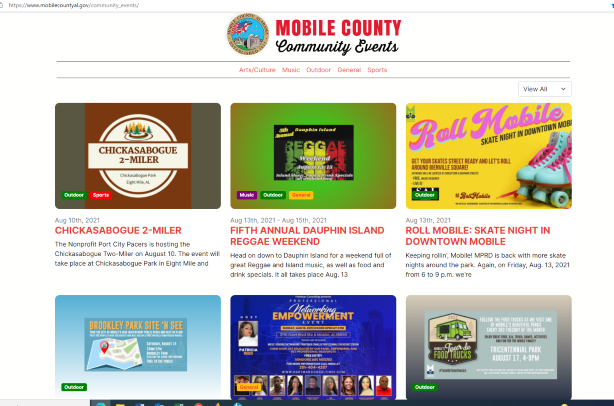 December 2021 EDIT: Submissions may occur through the red button on the calendar itself or through the contractor assisting with this project as described below.

MOBILE COUNTY, Ala. -- To increase the visibility of events occurring throughout the county, the Mobile County Commission has launched a new community calendar at https://www.mobilecountyal.gov/community_events.
"There are so many activities and events that serve a public purpose, are of cultural significance or help us learn about the rich heritage, people and communities in Mobile County," said Mobile County Commission President Merceria Ludgood, who initiated this project. "We saw a need for a one-stop events calendar that would specifically feature events and activities occurring throughout the County, particularly in smaller communities and among its diverse people and cultures," she added.
To ensure events of general interest that are geographically and culturally inclusive are captured from throughout the County, Mobile County Commission has enlisted the aid of NspireU! Events, Entertainment and Marketing. Organizers can submit events for the calendar in multiple ways:
Email: nspireucares@nspireu.org
Web: www.nspireu.org (use the red "Upload Your Events" button on the home page)
App: "Nspire U On Air" (available through the Google Play or Apple App stores)
Submissions should include need-to-know information for the event or activity, such as day, date, time, place, whether it is free or an admission fee is charged, as well as any pertinent health and safety protocols in place. Organizers should submit an image for the event as well.
Submissions are encouraged for events and activities that:
benefit the community or nonprofits,
are sponsored by Mobile County Commission or municipalities within Mobile County,
occur at Mobile County parks,
are of interest to families,
provide cultural or educational experiences, and
are geographically and culturally inclusive.