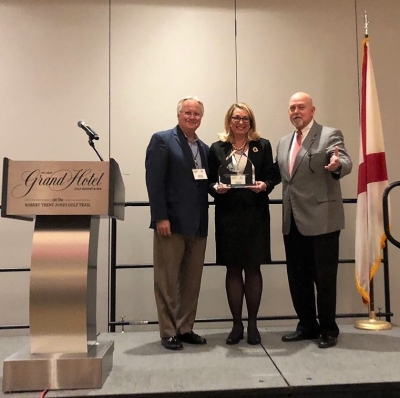 The Mobile County Commission's Love Your Community (LYC) on-going anti-litter campaign was recently awarded the Norman J. Walton, Sr. Regional Award by the South Alabama Regional Planning Commission (SARPC). The campaign, spearheaded by Mobile County Commission President Connie Hudson and co-sponsored by Keep Mobile Beautiful, Inc. and the Alabama Coastal Heritage Trust, was launched in the spring of 2018 to encourage citizen-involved on-going cleanup and protection of our environment. The program has spread county-wide and has motivated neighbors, co-workers, church groups, youth organizations and other interested groups to regularly monitor and remove litter from their adopted geographic area.
Five hundred individuals representing 40 groups have already joined the LYC campaign. Among the organized groups are five area schools, including Theodore, Mary G. Montgomery, LeFlore and Davidson high schools, along with Just 4 Developmental Laboratory. Mobile County and project co-sponsors have supported team efforts by supplying tools such as litter grabbers, safety t-shirts, gloves and reusable and disposable bags to assist with the cleanups and have attended several community meetings to present the program and encourage participation.
SARPC presents this award annually in memory of Norman J. Walton, Sr. who "exerted a strong and guiding hand in the foundation and organization of the Regional Planning Commission" in 1964, and served as its chairman until his death in 1983. The award recognizes a local member government which best exemplifies intergovernmental cooperation and the promotion of regionalism in the South Alabama Region.
View All News